The damaged white Suzuki Vitara reportedly driven by the suspect (John Halley photo)
COLE BAY—Several vehicles damaged in high-speed chase of a suspect from Bellevue to Cole Bay on Tuesday afternoon. Gendarmes and KPSM officers collaborated on the chase.
Commandant of the Gendarmerie, Lt. Colonel Maxime Wintzer-Wekind, explained the chase occurred because a car refused to be controlled on the French side, its driver then fleeing to the Dutch side. He confirmed some vehicles were damaged on the French side during the pursuit but gave no further details.
A subsequent communique from the Gendarmerie stated: "At 12:45pm at Residence Les Manguiers in St. Martin the driver of a vehicle was noticed driving at high speed in the streets of this residential area. Three persons attempted to persuade him to stop causing tension to mount. The driver, irritated, drove towards the three victims and touched them slightly with the bumper of his car (but no injuries), then he fled.
"Alerted and quickly on the scene, several patrols of Gendarmerie pursued the vehicle. During his escape, the driver did not hesitate to damage a police vehicle as well as parked vehicles on the road. The suspect succeeded in crossing the border where, following an excellent cooperation between the two law enforcement agencies (Gendarmerie/KPSM), this vehicle was intercepted. However, the driver managed to escape. The investigation is in progress on both sides of the border."
The chase ended in an alley off Union Road close to the Salvation Army premises. It was understood the suspect was driving a white Suzuki Vitara. It was not known how many vehicles belonging to members of the public were damaged.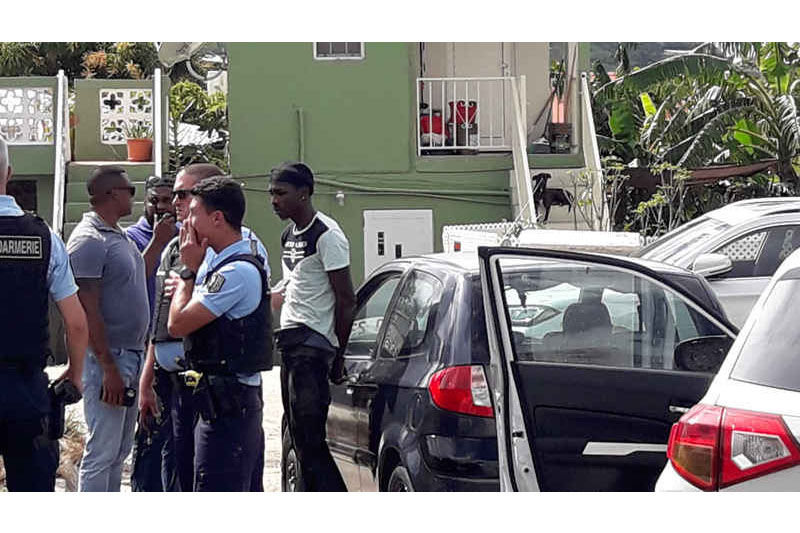 Gendarmes and KPSM officers seen at the end of the chase with the handcuffed passenger of the vehicle (John Halley photo)