Members of the King Yen Taekwondo school train together before their quarterly belt examinations.
ST. PETERS—Thirty athletes from the King Yen Taekwondo School past their Third Quarter examinations and earned the right to wear the next level belt.

In accordance with the examination rules and regulations of the World Taekwondo (WT) and the Kukkiwon in Seoul South Korea and under the auspices of the St. Maarten Taekwondo Federation the King Yen Taekwondo school held their Third Quarter 2021 TKD exams in the Gymnasium of the Helmich Snijiders Hillside Christian School in St. Peters on Saturday.
These exams were authorized and tested by Grandmaster Theo Liu.
"Despite the difficult situation caused by the Covid pandemic the students have done very well," said the grandmaster.
Assisting in the examination process were locally trained black belt holders Master Lee-Ann Liu (2nd Dan), Paul Djasmin (2nd Dan), Shekinah Carbon (1st Dan) & Master Pastor Rodriguez Leon (2nd Dan) from Venezuela.
White belt - One yellow stripe
Earning their first promotion to 10th kuye, a white belt with One yellow stripe were Lemesha Fleming, Shemaiah
Lake, Selenamy Nguyen Le, Arush Soekhoe and Kjeld van der Meer.
White belt - Two yellow stripes
Moving up to 9th kuye, a white belt with two yellow stripes were Rehanna Dasrat, Joshua Lake, Shemaiah Lake and Arush Soekhoe.
Yellow belt
Four students earned the right to wear a yellow belt called 8th kuye. Advancing were Philip Chang Sing Pang, Jordan Frederick, Raj Sooknarine and Dwayne Wilson.
Quarterly examinations are how students earn their next belt and move up through the ranks from beginner white belt to Black Belt ranks.
Yellow belt - Green stripe
Earning the right to wear 7th kuye, yellow belt with a green stripe were Kimar Persaud and Roeniel
Sarabdjitsingh.
"Testing helps students see the importance of setting and working towards goals, which is an important life skill we want them to learn," said Grandmaster Liu. He continued, "Testing helps students build self-confidence: TKD students maybe nervous about testing-that is natural because the next rank is something they really want –but we want them to learn to overcome their fears rather than to avoid everything in life that present them with a challenge. We don't want them to quit every time things get a little tough."
Green belt
Shon Sooknarine earned the 6th kuye green belt.
Green belt - Blue stripe
Kendrys Fuentes, Sunil Mankaran, Jhavid Ramcharan – Persaud and Jayden Tennant all earned the right to wear the 5th kuye green belt with a blue stripe.
Blue belt
A 4th kuye blue belt were earned by Shailen James and Thashan Khemraj.
Blue belt - Red stripe
Three athletes passed the examination for 3rd kuye, a blue belt with a red stripe. Moving up were Lucas Brouwer,
Key-Mari Richardson and Rique Lee Rosalia.
Red belt
Ethan Itwar and Jacquelle Johnston earned a 2nd kuye red belt.
Red belt - Black stripe
Kiara Williams passed the examination for 1st Kuye, Red belt - Black stripe.
Grandmaster Liu added that he was happy to see so many parents and family members during the examinations. "In general, it is very important for parents to support their kids in whatever activity or hobby they are involved in," said the grandmaster Liu.
Adult Blue belt
Two adults also passed their examinations. Paulien Vuijst and Luisa Perez – Veras will be wearing a
4th kuye blue belt.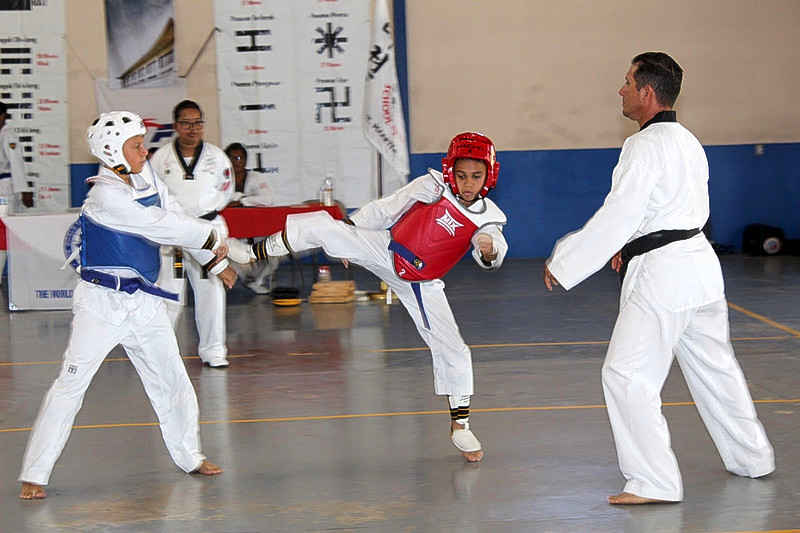 Athletes spar during their Third Quarter belt examinations at the Hillside Christian School in St. Peters Saturday.