Governor George-Wout with the Council of Ministers she just installed behind her.

Prior to the ceremony, candidate ministers who were Members of Parliament (MPs) submitted their resignations as such, after the credentials of their successors in the legislature had been approved during a rare Sunday meeting. The latter then took up their seats Monday afternoon.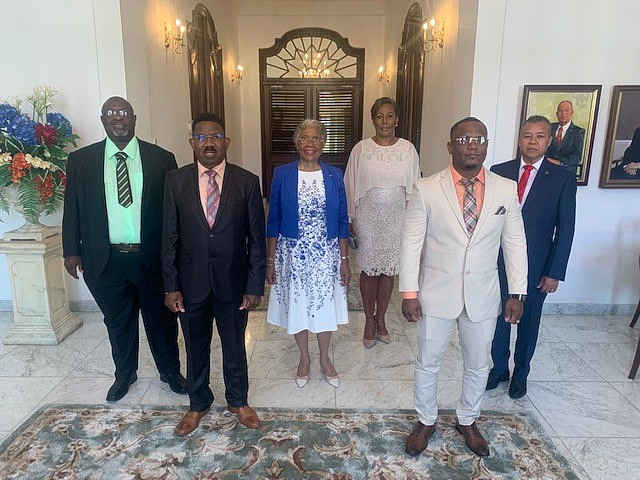 Five new Curaçao Members of Parliament (MPs) of the incoming MKF/PNP coalition were sworn by Governor Lucille George-Wout (centre) Monday morning to replace their party's predecessors who became cabinet ministers that same day. Posing with the governor from left to right are MPs Gerard, Thode, Djaoen-Genaro, Seferina and Yung.WILLEMSTAD--Curaçao's new MFK/PNP government headed by Prime Minister Gilmar Pisas (MFK) was sworn in by Governor Lucille George-Wout on Monday at noon.
The incoming cabinet starts with seven instead of the usual nine ministers. Two candidates, one of each coalition party, dropped out earlier due to the screening process. The political leaders Pisas and Ruthmilda Larmonie-Cecilia (PNP) will both handle two portfolios for now.
The governor mentioned that their governing term will start in extremely difficult circumstances. She said life was not easy for many people even before the corona crisis and urged attention for all sectors in society, adding that a new impulse is needed.
George-Wout further stated that the cabinet is not alone, while she is always available for advice. The governor expressed hope that all decisions are taken in the interest of Curaçao.