DATE ISSUED: Tuesday, June 15, 2021 @ 12:00 LST (16:00 UTC)
VALID UNTIL: Wednesday midday (12:00 LST) June 16, 2021
WEATHER:
This afternoon through Wednesday midday: Partly cloudy, breezy, and hazy, with a brief local shower possible.
Forecast High: 32°C / 90°F Forecast Low: 27°C / 81°F
Sunset Today: 6:49 P.M. Sunrise Tomorrow: 5:37 A.M.
SURFACE WINDS:
This afternoon through Wednesday midday: Northeasterly to easterly with a gentle to moderate breeze of 10 to 17 mph and higher gusts.
SYNOPSIS:
A strengthening pressure gradient will produce brisk winds across the region. Moisture embedded within the wind flow may trigger brief showers over St. Maarten. However, Saharan dust is expected to reduce visibility and the likelihood of significant rainfall activity. Persons with allergies/ respiratory illnesses should take the necessary precautions.
Moderate seas, with waves peaking up to 7 feet during this forecast period.
STATE OF THE SEA: Moderate WAVES/SWELLS: 5 to 7 feet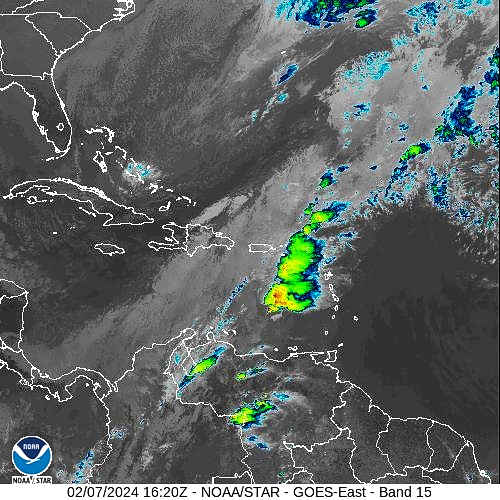 SPECIAL FEATURES:
Tropical Storm Bill remains off the eastern coast of the United States of America. This system is expected to become extratropical later today. It does not pose a threat to St. Maarten.
OUTLOOK through Thursday midday: Partly cloudy, hazy, and breezy with brief local showers possible.
FORECASTER: Gordon