New DP member Grisha Heyliger-Marten speaking to attendees.
~ Regeneration meeting held ~
CAY HILL--Independent Member of Parliament (MP) Grisha Heyliger-Marten, wife of United People's (UP) party founder Theo Heyliger, signed on to officially become a member of the Democratic Party (DP) on Sunday evening.
Dressed in a red T-shirt and red cap, the former United People's (UP) party member signed on to join DP on stage after delivering a speech during a well-attended DP regeneration meeting held in Cay Hill. Her husband Theo Heyliger and a number of family members and relatives were in the audience to applaud the MP's change of political home.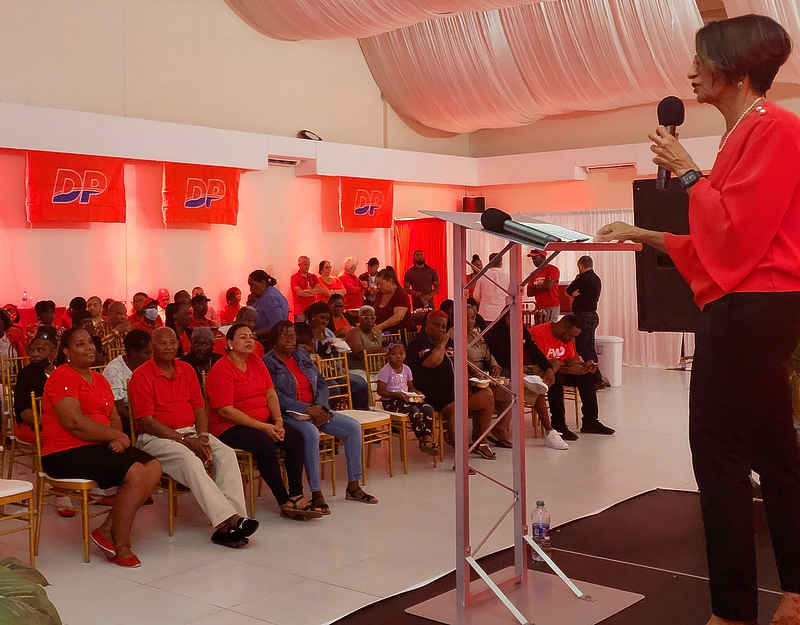 DP leader Sarah Wescot-Williams addressing the audience on Sunday evening.
Wescot-Williams, Roshana Richardson, Roberto Arrindell and emcee Alston Lourens were amongst those who addressed the audience during the regeneration meeting. Persons from several political parties as well as some persons who had run on the DP slate and served in the past as ministers were also present.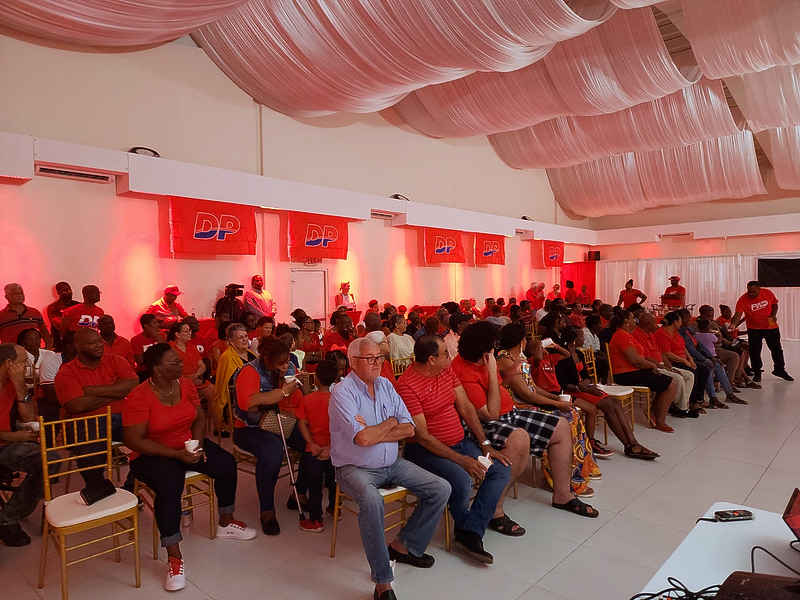 A section of the audience at the DP regeneration event.
In her remarks Heyliger-Marten painted a picture of the challenges she had encountered while in the UP party, noting that before she could have even decided to leave the UP party, the party had left her and many others behind and today had become a fragmented group.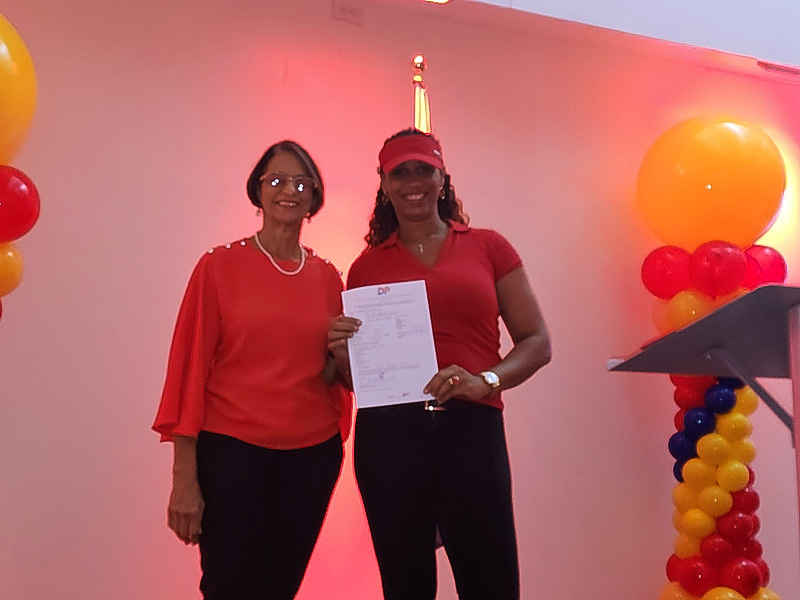 Grisha Heyliger-Marten hands over her signed membership form to DP Leader Sarah Wescot-Williams.
"I am so much at peace right now. The experiences I have endured have impacted me to the core. It has allowed me to take stock of the entire situation and caused me to take a long pause, a pause that made it very clear: The people of St. Maarten deserve better. So, when I heard the calling of the regeneration of the DP, and that the DP wanted to go back to its core values and principles, I thought, well this is exactly what the country needs, what we as a people need, and what I can support.
"Hence, the main reason I decide to go back home is because, as I mentioned earlier, we are at a crossroad. My experience with this collision, which they call a government alone, is a tell-tale sign that this country is in trouble. And when things are looking bleak, shaky and uneasy, then it's time for a revival."
Earlier in her speech, she said the people of St. Maarten are heading towards some unprecedented times, a slippery slope and at a crossroad. "We need to pause, take stock of the situation and make some serious decisions together," she told the audience.
She said that just under four years ago, when she decided to postulate herself for the 2020 elections, her biggest fear had been losing herself and her relationship with Jesus Christ.
"In the past three years I have seen some of our leaders completely forget what it truly means to stand for the people and literally destroy the fabric of the little integrity this country was still able to hang on to," she said. "In the summer of 2022, I was compelled to create a mantra for myself, to remain grounded and focused and stay true to the purpose of why I postulated myself: Soualiga First.
"Most believed it was the name of my new party, but that was never the case. It was simply a mantra I needed to keep in my heart. That's how I was able to endure the next gruelling six months of 2022."
She said some in the NA/UP coalition that once had her support, now known to her as a "collision waiting to happen," were rapidly losing the core of what it means to govern and losing themselves in the process. "For most of them, it was never for the sake of stability. I can stand here today and tell you that idea of stability that they have been promoting is a farce. I say this based on what I have seen and experienced."
She concluded that if it meant giving up the principles, norms and values she grew up on, if it meant losing herself, which will eventually mean her relationship with her best friend for the sake of the "farce they call stability", she wanted "absolutely nothing to do with it."
"It became more and more evident that most (not all) in that group of people that I once supported didn't have the same vision and goals as I did and trust me when I say not even for each other. In that group, it was never about working together to make things better for the country, the group had become all about self-interest, making it work for them, and not for you, the people of St. Maarten.
"The supposed new path they chose to follow was filled with chaos, confusion and had our community in disarray and I just couldn't in good conscience continue to support that group. And let me make one thing clear: The few that are still in that group are misguided to think that hijacking something they did not build will secure them," she stressed.
"And to anyone that decides to join that group, it will say a lot about your principles. And that you support the ideology of that group which is about being egocentric and self-centred.
"I'm sure you're all wondering why I would call them a group, because a group is easily fragmented and most importantly and there's no honour amongst thieves, but a party is built on a foundation of principles, vision, integrity, and good leadership."
She stressed that now is the time for solid leadership that blends the experience and knowledge of the current generation with the new ideas of the next generation, time to have the right people with the right frame of mind to regenerate and revitalise DP – a party of legacy, and time to "come back home, time to roll up our sleeves and work together without individual ideologies, but with one purpose: putting Soualiga first."
Wescot-Williams touched on a number of issues in her address. Several other things occurred at the meeting which will be reported on in tomorrow's edition of The Daily Herald.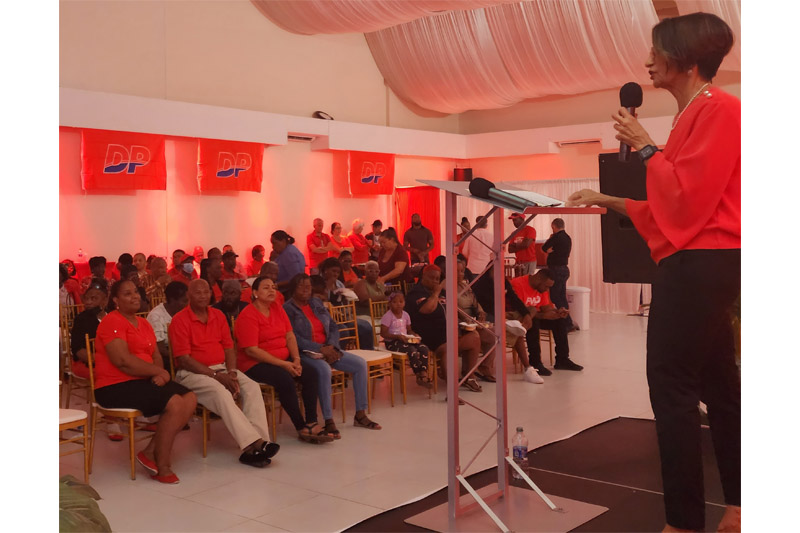 DP leader Sarah Wescot-Williams addressing the audience on Sunday evening.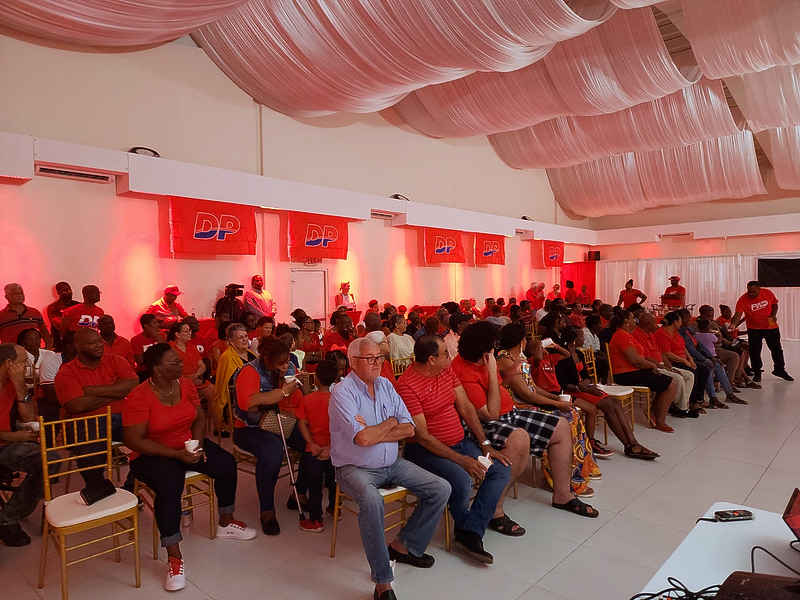 A section of the audience at the DP regeneration event.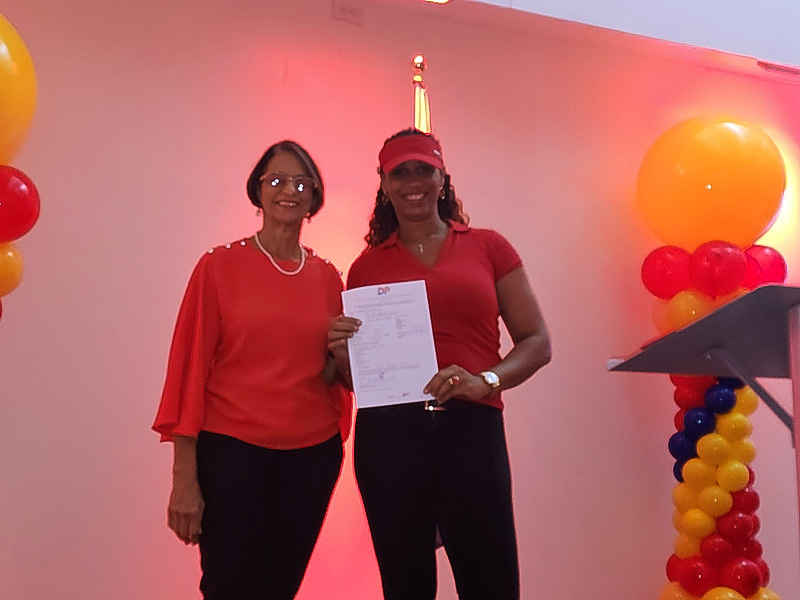 Grisha Heyliger-Marten hands over her signed membership form to DP Leader Sarah Wescot-Williams.