NWS National Hurricane Center Miami FL
830 AM EST Wed Dec 7 2022
For the North Atlantic...Caribbean Sea and the Gulf of Mexico:
Special Tropical Weather Outlook issued to discuss the potential for subtropical development over the central Atlantic.
Central Subtropical Atlantic: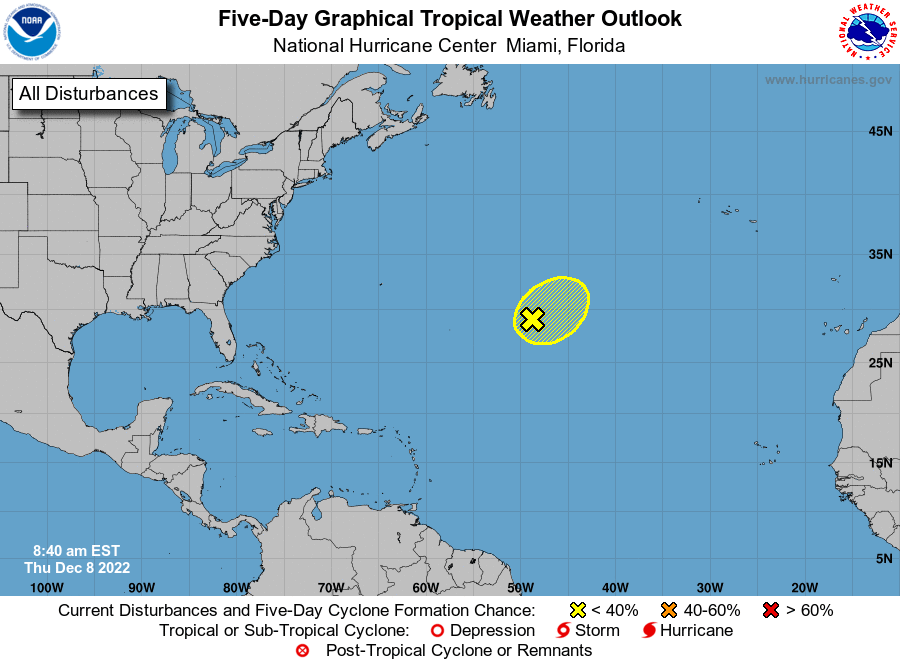 A large non-tropical area of low pressure located over the central subtropical Atlantic about 900 miles northeast of the northern
Leeward Islands continues to produce a large area of showers and thunderstorms. This activity has become somewhat better organized this morning, though frontal features remain attached to the low. Environmental conditions appear marginally conducive for development and a subtropical or tropical storm could form within the next day or so. By Friday, the low will move northeastward over cooler waters and interact with a mid-latitude trough, limiting the chance for additional subtropical or tropical development of the system.
* Formation chance through 48 hours...medium...50 percent.
* Formation chance through 5 days...medium...50 percent.
Forecaster Papin