The new Island Council and Executive Council on the balcony of the Government Administration Building in The Bottom on Wednesday.
SABA--The new Saba Island Council 2023-2027 was installed on Wednesday. New members Saskia Matthew, Hemmie van Xanten, Rolando Wilson, Elsa Peterson and Vito Charles were sworn in, as well as members of the Executive Council, Commissioners Bruce Zagers and Eviton Heyliger.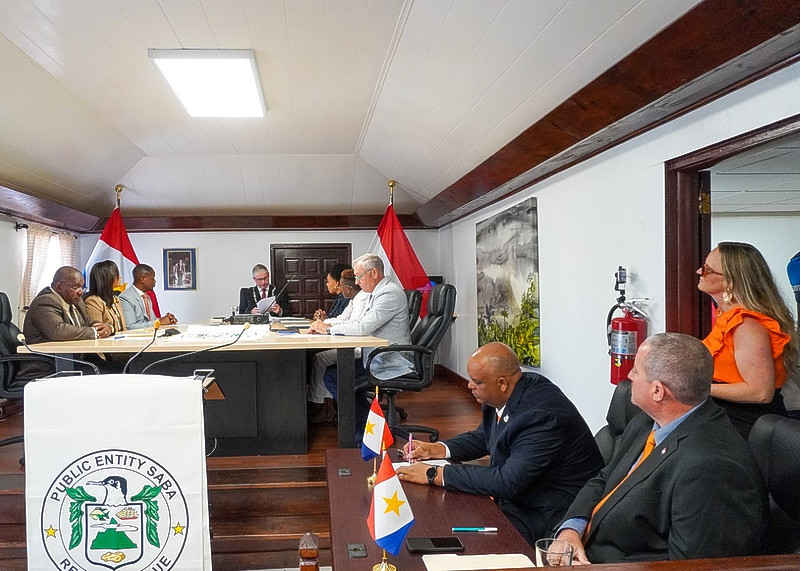 The new Island Council 2023-2027 in session.
The new Island Council has two new faces and both are young women: Matthew for Party for Progress, Equality and Prosperity (PEP) and Peterson for Windward Islands People's Movement (WIPM). Former Island Council Member Heyliger became commissioner and will work with Zagers, who was reappointed as commissioner.
In the presence of many family members, friends and supporters, the five elected Island Council members were sworn in by Island Council registrar Akilah Levenstone, who read the deed of oath, and the new members took either the oath or affirmation. The five then voted for the new commissioners through a ballot. Five votes were cast in favour of Zagers and four in favour of Heyliger.
Zagers and Heyliger subsequently resigned as Island Council members, and the three remaining members, Matthew, Wilson and Van Xanten, examined the credentials of two new Island Council members, Charles and Peterson. After the documents were approved, Peterson and Charles were sworn in. "We are now complete," said Island Council chairman Island Governor Jonathan Johnson.
Before inviting the new Island Council members and commissioners to give their inaugural speeches, Johnson proposed to appoint Devi van Groningen, legal advisor of the public entity Saba, as acting island registrar. The appointment was unanimously approved.
Change
Matthew said that the journey to become an Island Council member was not about financial gain, wanting status, power or control, "because I come from humbleness and vow to remain so. This journey has been about being the change I wanted to see on Saba and within the local government. Here we are today holding two seats in the Island Council and being sworn in, creating history and the legacy of a new political party," she said.
Matthew said that even though people living on Saba were blessed, some of them still fell through in a system with many gaps and cracks. "Sometimes all it takes is listening to people's actual needs as opposed to giving what you think they need. Listening and being pointed in the right direction goes a long way, and by doing so we can close these systemic gaps and seal those cracks together," she said.
"I pledge before you to contribute to a cooperative and collaborative Island Council where two political parties can and will work together in your interest, where we will hold each other accountable and where we as PEP promise to work with respect and consideration, but also ask for the same in return," said Matthew.
Van Xanten said it was a special day in Saba's political history. "The entrance of a new political party in government with two seats has shown that there is indeed a need for change. Change with two Island Council members who will be operating as opposition. With the
elections behind us, it is time to start to act and work. Being in the opposition seat does not mean that with two seats your voice cannot be heard. It is our duty to hold government accountable for their functioning and challenge them for alternative solutions," he said.
Leadership
Peterson spoke about her campaign slogan "Leadership matters in government". She said, "As the decisions made by our leaders affect the lives of everyone, it is important that those decisions are made with integrity, compassion and a deep commitment to the common good. It requires leaders to prioritise the needs of their constituents above their own interests, to listen to the diverse perspectives of their community and to make decisions that will benefit the many, rather than the few."
During her campaign, Peterson urged voters to choose inclusivity and elect a woman.
"I am proud that we now have two women in the Island Council. I also urged voters to consider voting for young, educated people. We have unique perspectives and fresh ideas. We have been trained to think critically, communicate effectively and work collaboratively, which are all essential skills for effective leadership. I stand here as an educated woman and the new, youngest Island Council member under the age of 30. I am very aware of the significance of this moment. I represent the next generation of leaders," said Peterson.
Charles also lauded the fact that there are now two women in the Island Council. "Coming from a legacy of strong and determined women, I believe in and advocated for doing what is necessary to ensure that women can be represented in places where decisions are made that affect them too."
Resilience
Referring to the COVID-19 pandemic, Charles mentioned the responsibility of government to ensure working towards making the community resilient and to make families and individuals stronger so they can be prepared to respond to events in their lives when these occur. "This must be our primary mission as we move forward." He promised to continue his professionalism and passion on the floor of the Island Council. "Over the years, I have learned that the community values having representatives that are informed and can also inform them. We must work hard to ensure that this is also felt in our community."
Wilson expressed gratitude for the opportunity to serve the Saba people for the past seven years as commissioner. "I am filled with gratitude for being able to work with the men and women of the different departments. My deepest appreciation to you all for the trust and confidence you have placed in me. It has been an honour and privilege to represent your interests and to work towards a better future for our island," he said.
"I am proud of what we have accomplished together. We have made important strides. Progress has been made and more will be accomplished. Our island will be facing challenges that will require collective effort and commitment from both sides. As I step down as commissioner, I want to remind you all that you were chosen to promote values and principles that make our island unique and great."
Heyliger mentioned the "immense responsibilities" that come with the position of commissioner. "I understand that my actions and decisions will have a profound impact on the lives of every person on Saba, and I don't take that responsibility lightly. I believe that we can achieve great things. By working together, listening to each other and staying focused on our common goals, we can make progress on the issues that matter most to the Saba people," he said.
"From today on, it is about working together with and for the people. I look forward to working with my colleagues in the Island Council and Executive Council so we can build a better future for ourselves and the generations to come. Commissioner Heyliger is here to serve the community," said Heyliger.
Zagers starts his fifth consecutive term as commissioner. He said that after almost 16 years in office and five elections, he was "always" humbled by the opportunity to serve Saba and its people. He said the improvements on Saba have been "impressive" and that he was "proud" of the accomplishments under the WIPM leadership. He mentioned the many projects and ambitions that were in the process of being executed, and said he was eager and motivated to get back to work to achieve "even more positive results that will have a positive impact on the people, Saba and its economy."
Great responsibility
Zagers spoke about the great responsibility that comes with governing.
"As elected politicians, we have the responsibility to serve our people, but we must also demonstrate maturity and be role models for our community. It is time for us to get to work. As elected members of government, we now have a duty to work for our people in a fair, transparent and dignified way. Our roles and our successes should not be measured by who can shout the loudest, or who can be the most difficult or even the most critical. Reality is that we all have one goal, regardless of our political colour, and that is a better Saba."
He said that opposition is important for democracy, but it is imperative to prove political maturity by working together in a constructive and respectful manner. "We will have different opinions at times, but our goal of a better Saba must be the focal point today, tomorrow, and for the coming four years."
Prior to the first meeting of the new Island Council, a session took place during which Zagers, Wilson, Peterson, Charles and Heyliger were installed as the new Electoral College. The college will vote for the members of the Dutch Parliament's First Chamber on May 30.