DATE ISSUED: Wednesday, September 14, 2022 @ 12:00LST (16:00UTC)
VALID UNTIL: Thursday midday (12:00 LST) September 15, 2022

…SMALL CRAFT & HIGH SURF ADVISORIES ARE IN EFFECT FOR
ST. MAARTEN UNTIL FURTHER NOTICE…
WEATHER:
This Afternoon: Partly cloudy with afternoon showers possible.
Tonight through Thursday midday: Partly cloudy to cloudy with isolated showers.
Forecast High: 33°C / 91°F Forecast Low: 27°C / 81°F
Sunset Today: 6:15 P.M. Sunrise Tomorrow: 6:00 A.M.
SURFACE WINDS:
This Afternoon through Thursday midday: East northeasterly with a light to moderate breeze of 06 to 16 mph with higher gusts
SYNOPSIS:
Weak instability is approaching the region. Increased moisture could account for a few showers during this forecast period.
Seas will remain above normal due to long-period northerly swells. Therefore, small craft and high surf advisories remain in effect for St. Maarten. Sea bathers and small craft operators should continue to exercise caution.
STATE OF THE SEA: Moderate to rough WAVES/SWELLS: 6 to 8 feet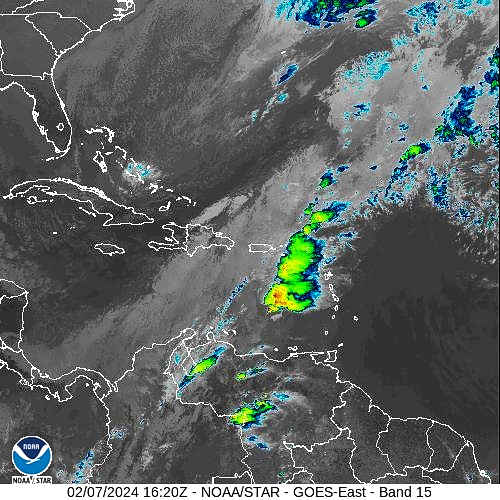 SPECIAL FEATURE: The Met. Department St. Maarten is presently monitoring a tropical depression 7 which formed at 11am this morning. The depression is located about 895 miles east southeast of St. Maarten and is moving towards the west near 14mph. Maximum sustained winds are near 35mph with higher gusts. Some gradual strengthening is forecast, and the depression could become a tropical storm tonight of Thursday.
The Met. Department will continue to monitor and keep the public updated on any possible impacts.
OUTLOOK through Friday midday: Partly cloudy to cloudy with isolated showers and possible isolated thunderstorm.
FORECASTER: Leblanc
3-DAY FORECAST
DAY

Wednesday

Thursday

Friday

WEATHER

Partly Cloudy,

Isolated Showers possible

Partly Cloudy/Cloudy,

Isolated Showers possible

Partly Cloudy/Cloudy,

Isolated Showers

HIGH TEMP

33°C / 91°F

33°C / 91°F

32°C / 90°F

LOW TEMP

27°C / 81°F

27°C / 81°F

26°C / 79°F

SUNRISE

05:59 AM

06:00 AM

06:00 AM

SUNSET

06:15 PM

06:14 PM

06:13 PM
Best regards