DATE ISSUED: Thursday, December 31, 2020 @ 12:00 LST (18:00 UTC)
VALID UNTIL: Friday midday (12:00 LST) January 01, 2021
…A SMALL CRAFT WARNING IS NOW IN EFFECT FOR ST MAARTEN UNTIL FURTHER NOTICE…
WEATHER:
This afternoon through tonight: Partly cloudy and windy with brief passing showers possible.
Friday morning through midday: Partly cloudy and windy, becoming cloudy at times with passing showers.
Forecast High: 29°C / 84°F Forecast Low: 24°C / 75°F
Sunset Today: 5:48 P.M. Sunrise Tomorrow: 6:43 A.M.
SURFACE WINDS: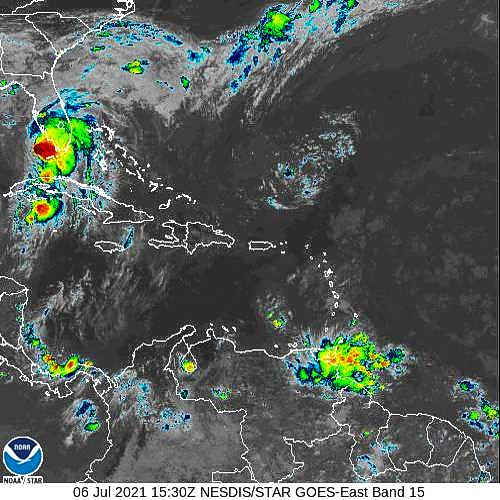 This afternoon through Friday midday: Northeasterly with a moderate to strong breeze of 16 to 25 mph and higher gusts up to near gale, particularly in and around showers.
SYNOPSIS:
A strong Atlantic high-pressure ridge will account for strong winds and hazardous sea conditions at least through the weekend. Pockets of moisture being transported across the region by this brisk wind flow may produce some brief passing showers.
Increasing winds will further deteriorate sea conditions today. Wave heights up to 12 feet are likely, these hazardous conditions will continue through the remainder of the week. Consequently, a Small Craft Warning is in place for St. Maarten until further notice. Small craft operators and sea bathers should exercise extreme caution to guard against loss of life and/or property damage. Beach erosion will also be of concern, particularly along the eastern and northern shores of the island.
STATE OF THE SEA: Rough WAVES/SWELLS: 9 to 12 feet
SPECIAL FEATURES: None.
OUTLOOK through Saturday midday: Partly cloudy to cloudy and windy, with passing showers possible.
FORECASTER: Pierre