Biker Girls riding in the parade.
ST. EUSTATIUS--A collaborative effort of the Directorate of Social Domain of the public entity St. Eustatius held a parade to bring focus to domestic violence. The parade featured performers in the Unit Social Support (USS) Domestic Violence and Child Abuse Awareness Campaign 2022, who were a sight to see and hear.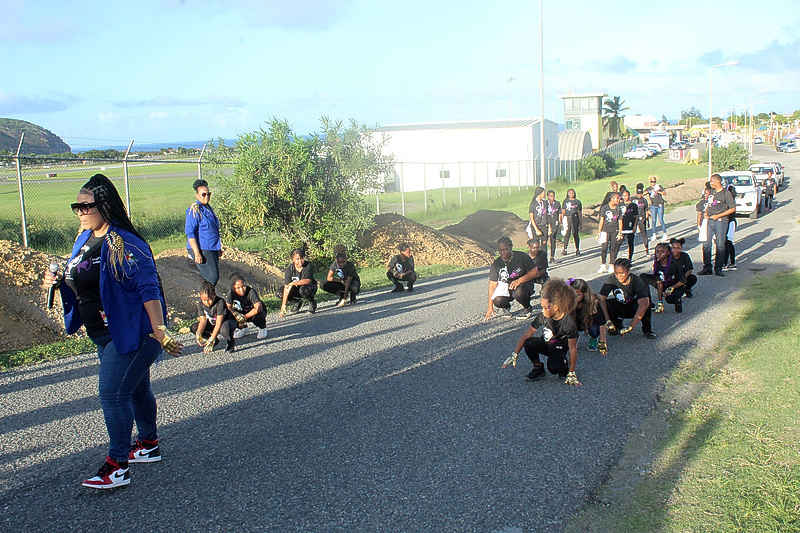 Lucienne Papa (left) leading young dancers.
The Biker Girls revved their support and honked their horns as part of the parade. The Awareness Campaign team was dressed in uniforms.
Designed by Lucienne Papa, the choreography featured young children and adults performing synchronised movements.
Between the performances, there were speeches by Shaze Gibbs, Miss Mature 2022 Maliska Brown and others, who spoke about the deep impact that domestic violence has on the community, and how it affects everyone in different ways.
Brown said that broken homes can lead to a broken society. "The time has now come to put an end to this issue. Violence is not okay, Statia. We are courageous and we care for our people," Brown said. "It's time to take action and we are calling on everyone to take action."
T-shirts, wash rags, car key holders, pens and other items were given away to the public along the parade route. The Statia division of the Caribbean Netherlands Police Force KPCN escorted the parade along its route.
Musical entertainment was provided by T-Time, DJ Sense and other performers. The St. Eustatius Red Cross was on hand to provide help if needed.