Dutch-side Prime Minister Silveria Jacobs and Culture Department head Clara Reyes walk with the funeral cortege to the cemetery following the speeches and tributes in the Galisbay car park on Saturday morning. (Robert Luckock photo)
MARIGOT--Government dignitaries from both sides of the island joined family members of the late musician Lino Hughes, his close friends and the population at large for the funeral service and memorial held in his honour in the Galisbay car park on Saturday.
It was a poignant but uplifting occasion, remembering a musical icon who brought joy to so many with his songs and many compositions and the rich legacy he left behind from a golden era of music and entertainment in St. Martin. His music lives on, prompting Dutch-side Prime Minister Silveria Jacobs and others to repeat the refrain "he is still with us."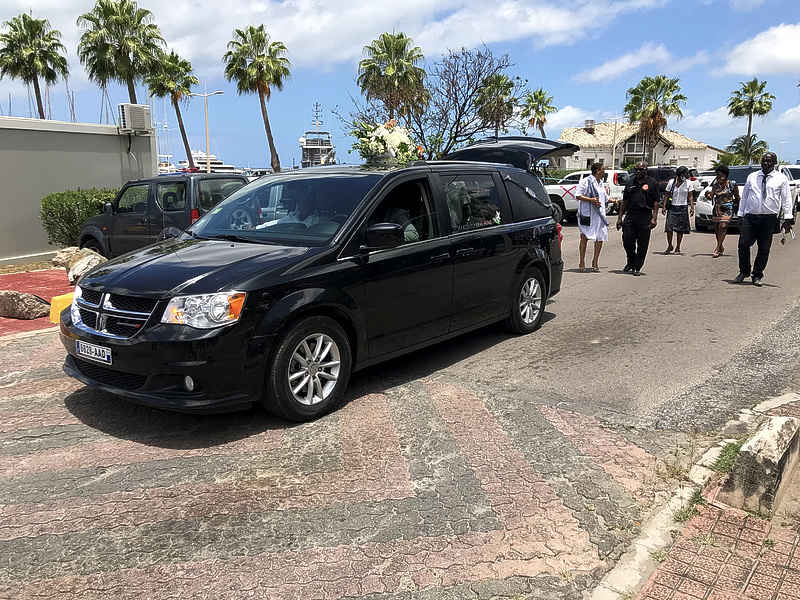 The hearse makes its way to the cemetery to lay Lino Hughes to rest. (Robert Luckock photo)
Lin Raymond "Lino" Hughes, also known as "Paw Paw", passed away peacefully on April 30 at the age of 73. He was the son of the late Josephine Hennis Carty and Frank W. Hughes. He was best known for his classic hit "Saint-Martin is my home", a patriotic song many considered a national anthem, which has been ingrained into the public consciousness ever since. Aside from being a gifted musician Lino had a passion for football.
Lino was the leader of the band Lino and the Hardway and a member of the Creole Stars, two of the top bands on the island between the 1960s and 1980s.
Tributes and condolences from government dignitaries preceded the funeral cortege to the cemetery to lay Lino to rest. His casket was on view covered with the Unity Flag while a condolences book was available for anyone to sign.
Jacobs in her tribute called Lino an "ambassador, a pioneer, an icon."
"For me Lino was, and will always be, a man of music, a proud St. Martin man, a creative and fearless pioneer, willing to innovate rhythms and beats," she said. "His work impacted the sounds that we all know and love and take for granted such as zouk, soca, and many other mix-ups of those genres, mainstream music that has become Caribbean-ised and before that African-ised, as Dow [Isodore York – Ed.]."
Jacobs recalled the interview with Lino Hughes published in government's St. Martin Day booklet of 2011 that she read again and appreciated with a different reverence.
"I was amazed about the fortitude of one man who found kindred creative spirits to create and innovate music, but also his acknowledgement that he learned by moving around sweet St. Martin land, and from persons such as John Larmonie and Bobby Vlaun," she said. "Music is a unifier. Through his love for St. Martin, he created a wonderful piece of history in song which will live on forever."
Copies of the 2011 booklet were presented to family members.
Other tributes were given by musician Isodore York, Member of the Dutch-side Parliament Hyacinth Richardson and Master of Ceremonies Shujah Reiph. The latter called for Lino's body of work to be "studied, documented, and celebrated in classrooms". He also called for a museum of Culture and Arts to be created.
Dutch-side Minister of Education, Culture, Youth and Sports (ECYS) Rodolphe Samuel confirmed that since he became minister the request to officially document all aspects St. Martin/St. Maarten culture, including the oral history, is already underway.
Head of the Dutch-side Culture Department Clara Reyes read out a touching tribute from Lino's nephew Antoine in the USA, who described his uncle as a "true footballer, a talented musician and role model par excellence." The eulogy was given by another nephew, Gio Brooks.
From the Northern side there were tributes from President of the Collectivié Louis Mussington and First Vice-President Alain Richardson attending with Territorial Council members. Richardson said Lino epitomised the real meaning of being a St. Martiner.
"He was gifted, excessively creative, and talented. But his life, like for many others, went through difficulties, hence his band name 'Lino and the Hardway' truly speaks of what St. Martiners had to go through. Lino has been one of our greatest gifted artistes. The hard way never prevented us from shining. Long live his legacy."
Mussington added: "Lino believed in the unity and oneness of our people. We are here together to honour a great national hero. The dedication and perseverance to produce that first album meant more than anything else to him. I also had the privilege of being there at one of their first recording sessions, in Gosier, Guadeloupe."
Other members of the Dutch-side delegation included Minister of Finance Ardwell Irion, Minister of Justice Anna Richardson, and Minister of Public Housing, Spatial Planning, Environment and Infrastructure VROMI Egbert Doran.
The official ceremony closed with Keno Baly singing one of Lino's favourite songs from Stevie Wonder. The all-day celebration of Lino's life continued in the afternoon with more tributes and music.