Students prepare to leave.
AIRPORT--Princess Juliana International Airport was filled with family, friends and well-wishers in preparation for the departure of 27 students for the Netherlands on Monday afternoon.
Antonio Aventurin, head of the Division Study Financing, told The Daily Herald there were originally 28 students set to travel, unfortunately one student tested positive for COVID-19 and was therefore unable to travel with his peers. He said that this student will, however, proceed with his travels once he has been cleared and is safe to fly.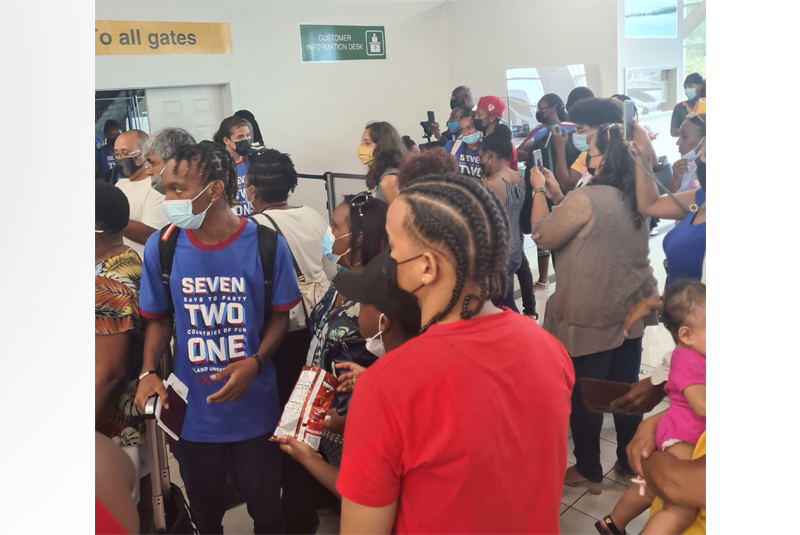 Families say their final goodbyes as students prepare to depart.
When asked about how the COVID-19 pandemic has affected the plans for this trip, he shared that since last year the Division of Study Financing developed a protocol where students were provided with valuable information. Leading up to the trip, students participated in preparatory workshops. Student Support Services and the Ministry of Public Health, Social Development and Labor VSA also participated as key facilitators in these workshops.
Prior to the flight, all students had to get COVID-19 tests as part of the requirements set to enter the Netherlands. All standard protocols were also followed for students.
He also shared that for this trip, no staff member of the Division was travelling with the students due to financial constraints.
He explained, however, that students will be taking a direct flight to the Netherlands, and a number of parents have also accompanied their children on the trip. Once they have reached the Netherlands, they will be met with the team at the airport.
In the Netherlands, students will participate in a scheduled orientation programme. During this period, as done in previous years, students will be guided by their guidance counsellors and their assigned buddies (other students currently studying the Netherlands) with settling in and setting up. Workshops and activities will also take part during this period. After this orientation, the students will separate and go to their respective cities.
The main cities they will be going to are Den Haag, Rotterdam, Arnhem, Nijmegen, Maastricht, and Groningen, among others.
Aventurin said the group of students that left for the Netherlands is one of several to leave this month. He said there are upwards of 40 additional students who will also be travelling to Canada, the United States (US) and the United Kingdom (UK) later this month. Some of these students have already departed to the US.
He said that despite the COVID-19 pandemic, the Division has worked hard to ensure that all students who were leaving to pursue their higher education were well prepared for their travels.
The newspaper spoke with student David Clifford. When asked about his travels to the Netherlands, he said that it was a bittersweet moment for him as he was sad to leave, but at the same time very much excited to start a new journey. It will be his first time going to the Netherlands, but assured that very extensive research was done on his behalf on what he might expect when he gets there. "I think everything that I came across [during my research – Ed.] I can handle, so I'll be fine", he added. Clifford will be pursuing his studies in European and International Law in The Hague.
Another student, De'Janee Lake, said she felt a mixture of excitement and a little bit of nervousness as she was awaiting her departure. Although not a stranger to the Netherlands, she admitted that she was very young during this time and remembers very little of this trip, so she is excited to see what the Netherlands has in store. She will be pursuing a degree in Cosmetology in Rotterdam.
Prior to their departure, the Minister of Education, Culture, Youth and Sport (ECYS) Rudolphe Samuel took the students over to a private area where he delivered his address. Soon after, students and families had a brief moment to say their final goodbyes.
As students were called to the departure hall, last-minute hugs, well wishes and goodbyes were shared. Many shed tears as they watched the students depart with their peers. Some found it difficult to let go and held on as long as they could until the very last moment.
As students made their way into the departure hall, the crowd of family, friends and supporters erupted in applause and cheers, a final show of support to all students on their journey ahead.