Dancers of INDISU Dance Theatre of St. Maarten at Dance Excellence 2021 in Los Angeles, California.
COLE BAY--INDISU Dance Theatre of St. Maarten, led by directors Susha Hien and Ihndhira Richardson-Marlin, travelled to Los Angeles, California, with twenty talented and dynamic dancers, ages nine to 23, to attend Dance Excellence 2021, an annual festival for international dancers hosted by Annie Mc. Quitty.
They were accompanied by two dance instructors and 12 chaperones, who cheered on Team St. Maarten in classes and performances.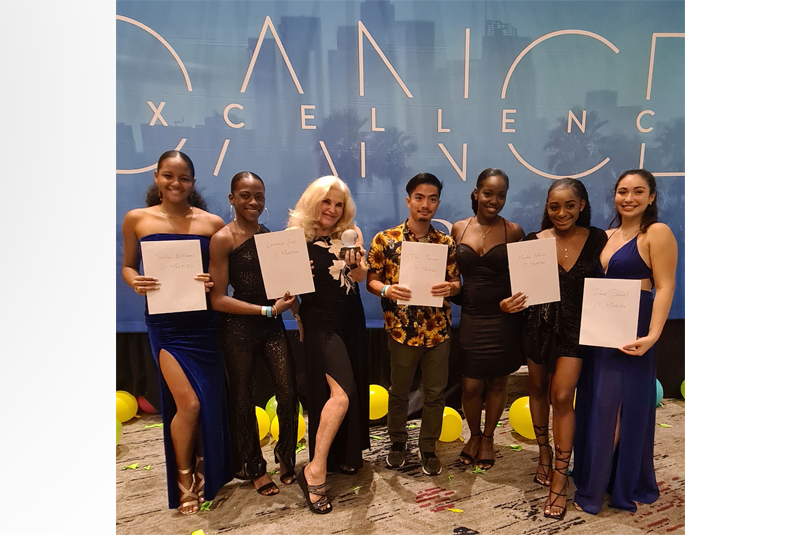 From left, Heart Global 2022 participants Thalia Williams, Lucciana Irish-Peters, INDISU director Susha Hien, Ian Soriano, INDISU director Ihndhira Richardson-Marlin, Maisha Marlin and Drake Daboul.
The trip was originally scheduled for April 2020, but abruptly postponed due to COVID-19. "We were extremely thrilled when confirmation was given that the event had been rescheduled for August 1-7, 2021, giving all our students, including those leaving to college this summer, the chance to experience what we have come to know as a week of dance, magic and hope," said Richardson-Marlin.
"It was even more magical than our previous visits in 2012 and 2015, as it seemed impossible that dancers would be able to safely gather to celebrate our love for our art on that large of a scale."
Approximately 275 young dancers participated in the weeklong event at Hilton Universal City and took daily classes from world-renowned master teachers in various performing arts, including jazz, ballet, African, tap dance, theatre, vocals, performance and hip hop.
INDISU's dancers showcased their performance skills, choreographies and passion at the International Performance Boards on Tuesday, August 3, to rave reviews from the judges, organisers and other directors and students at the festival.
They received top rankings for "If my friends could see me now" in the 8-12 jazz category, "Jazzland" (16+) and "Stand UP (modern 16+). The 16+ variety number "Bohemian Rhapsody" received the second highest ranking.
"The organizers loved our song and costume choices, our dancers' technique, our choreography, storytelling, and especially, intense emotion. We could not be prouder of our dancers," said Richardson-Marlin.
"We were the only international group able to attend this year, because of constantly changing travel requirements, and we stood out boldly and with pride from the 17 United States' schools in attendance. The master teachers noticed our students in each class and we cannot count the times they were called out for their passion and beauty on the dance floor," she said.
The travel restrictions also impacted INDISU as two of its star dancers and their parents were unable to join at the last moment. This made the students who made it to Los Angeles even more determined to take full advantage of their time there and dance for their peers, who were denied entry into the US because of their summer travels to Europe.
INDISU also performed on the 5 Towers Stage at Universal Studios as part of the Stars programme. The 10-minute performance was a highlight of the day and a crowd favourite. Choreographers Susha Hien, Ihndhira Marlin and Natorii Illidge, with the assistance of Giovanni Webster, were commended for their ability to entertain and put on a "fantastic" show.
The Dance Excellence Company, with two dancers from each of the 18 schools at the festival, worked together each evening after their classes on a performance for the Awards Gala. These 36 dancers included St. Maarten's very own Drake Daboul and Thalia Williams, who commanded the stage like professionals.
The cherry on top of everything was the announcement at the end of the Friday evening gala that INDISU dancers Ian Soriano, Drake Daboul, Maisha Marlin, Lucciana Irish-Peters and Thalia Williams auditioned to become cast members of Heart Global for their 2022 Global Outreach Tours, which will take them all over the world to sing, dance, perform, and mentor the next generation of globe-connecting creatives. They will train intensively for six weeks in the summer of 2022.
Minister of Finance Ardwell Irion and Member of Parliament William Marlin were on hand to welcome and congratulate the dancers on their arrival at Princess Juliana International Airport on Sunday afternoon.
INIDISU will be opening the 2021/2022 season with registration from August 21. Classes will resume in September.