Bob Marley's son Kymani Marley performing on stage two years ago at the Musical Experience. (File photo courtesy of Mega Musical Experience.)
ST. EUSTATIUS--Statians will get a chance to de-stress at a Vaccine Night dance party which will be held at Lions' Den Village on Saturday evening and a Pure White Party with a touch of gold at Boardwalk Café on Friday night.
Local impresario Dion "Mega D" Humphreys said this weekend's events will be the fifth "Musical Experience".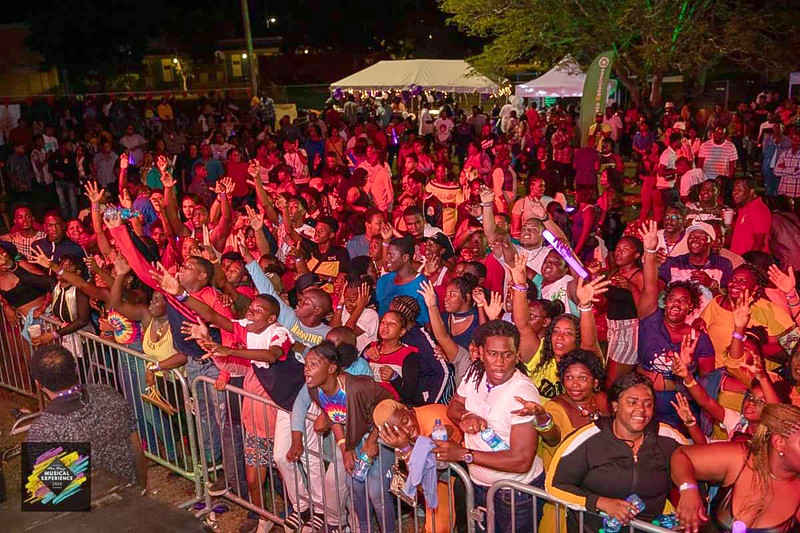 Last year's Musical Experience attracted more than 1,000 persons. (File photo)
"This fifth-year anniversary will be one of a kind: our line-up includes bands from Statia and Saba as well as a virtual performance from Onyan from the Burning Flames. This band from Antigua will be sensational," he announced.
"It will be the first time for an international virtual performance to take place in Statia. Its energy from soca beats will fill the dance floor. Originating from Trinidad and Tobago, this rhythmic soca involves a lot of foot-stamping and hip-moving motions. It is popular in Statia with folks of all ages."
"Although performing in real time from a studio in Antigua, Onyan's show will not lose the vibe of a live experience," Mega D said. "We always like to have a very strong international presence at our events. Given the difficulties with travel between our islands, this big-screen option will still prove to be a blast.
"Impressive and dramatic dance music will be performed by Turbulanzz Band and Jamm Boyz Band – and D'Vybz, who will be giving their first debut from Statia. We always like to promote our locally grown musical talent and these bands will ignite the atmosphere with familiar Caribbean tunes.
"Also on the billing is the Entyce Band from Saba. It is an exceptional band and the Statian guys from Rebel Band HD are scheduled to perform. For members of the audience who want to network, relax or enjoy fine food, an exclusive VIP lounge has been set up by local company Island Communication Services (ICS)."
Mega D said that ever since his dance event was first staged, it attracted a significant tourist audience from neighbouring islands.
"Statia has been through a challenging time these many last months and it is time to wax our twinkling shoes, strike a pose and show the world that we have passion and expression in our dance moves.
"It is almost a full year since the last Mega Musical Experience when our rhythm pipelines hit the headlines. It was big then in Statia and, despite the worries of COVID, we can be big again. With the new vaccine, it is time to overcome fears. Get ready for the Broadway show," Mega D said.