NAGICO awarded the winner of an impromptu calypso "ex tempo" competition a brand new TV.
~ Two finalists to be replaced ~
MADAME ESTATE--St. Maarten Carnival Development Foundation (SCDF) hosted a completely sold-out senior calypso elimination on Friday night to signal the return of calypso in its full form.
Aleeze Convention Center and Event Hall had standing room only by 9:00pm for an estimated 600 people, which "was a great problem to have," according to the SCDF. The event is annually sponsored by NAGICO Insurances, which expanded its contributions to the art form this year, said SCDF.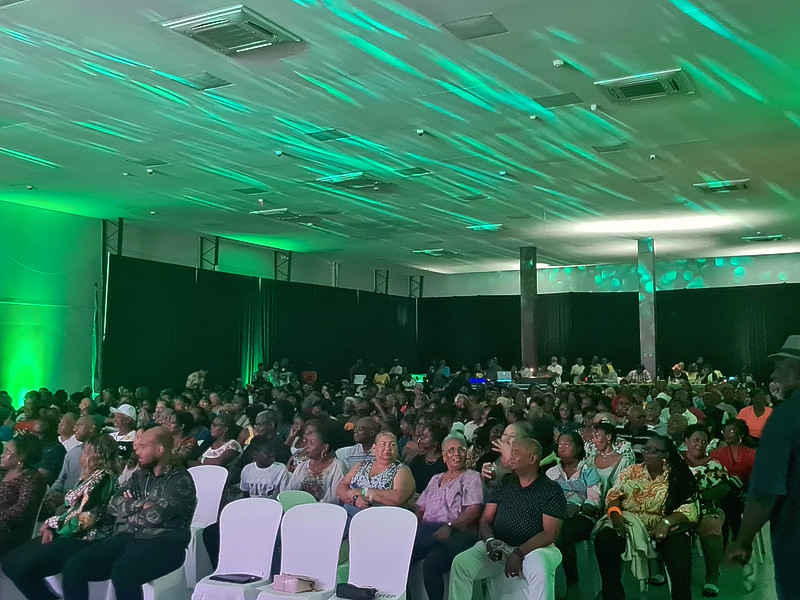 Aleeze Convention Center and Event Hall was sold out for the NAGICO senior calypso elimination.
The eliminations featured 15 singers, 10 of whom made it through to the calypso finals in Carnival Village on April 26. However, of the original 10 who made it, SCDF said two will be replaced because the snag songs had been performed before and did not fit SCDF's "originality" criteria and regional norms used to judge calypso.
Therefore,, Roxxy and King Barrow will be replaced in the finals by Ebony Empress and The Pensioner. The remaining eight that made the finals are Fish Da Mega Boss with his song "In Your Heart", The Mighty Dow with "We Need More Wife", His Majesty Baker Junior with "Can Reparations Pay For That", The Wizard with "They Can't Come", Dr. Jones with "St. Maarten Mouth", Ricky Da Phox with "We Need a Break", Lady Upsetter with Save "St. Maarten Land" and X-Rey with "Wake Up". Ebony Empress' and The Pensioner's songs were entitled "Revolution Change" and "Who Else" respectively.
The night also featured introduction of some of the children who will be competing in the Junior Calypso and Road March Competitions at the Harbour facility on April 9. This show is being coordinated by Dow Musical Foundation.
Persons in the audience also had the opportunity to sing a spontaneous calypso called "Extempo" to win a brand new television from NAGICO insurances. Only ladies took the stage to give it their best effort and the crowd favourite took home the prize which was presented by Lisa Brown and Vincent Haakmat of NAGICO.
"Overall it was a terrific show and we believe the crowd was truly entertained with good social commentary," said SCDF President Edwardo Radjouki . "i want to take the opportunity to thank NAGICO for sticking with the art form of calypso and for supporting Carnival in general. The company is the only committed sponsor for calypso in Carnival and continues to believe in the product. We are very grateful."
He said anticipation of the finals is now very high. Each singer, including current Calypso Monarch King Beau Beau, will have to sing two songs to try to win the coveted crown that carries a US $10,000 prize.