DATE ISSUED: Sunday, November 22, 2020 @ 12:00 LST (16:00 UTC)
VALID UNTIL: Monday midday (12:00 LST) November 23, 2020
…A SMALL CRAFT ADVISORY REMAINS IN EFFECT FOR ST. MAARTEN
UNTIL 6AM TUESDAY, NOVEMBER 24, 2020…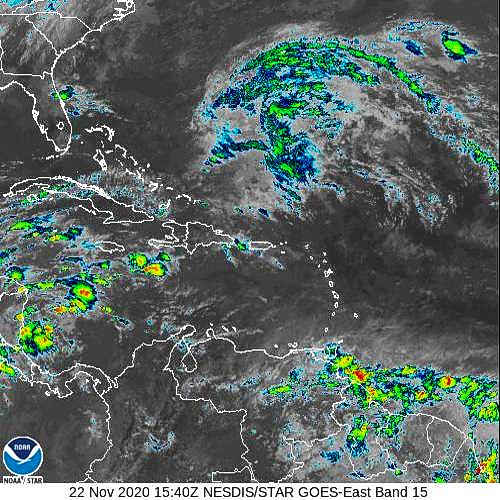 WEATHER:
This afternoon through Monday midday: Partly cloudy, breezy, and hazy with brief local showers.
Forecast High: 31°C / 88°F Forecast Low: 26°C / 79°F
Sunset Today: 5:35 P.M. Sunrise Tomorrow: 6:22 A.M.
SURFACE WINDS:
This afternoon through Monday midday: East to east-southeasterly with a moderate to fresh breeze of 12 to 22 mph, and higher gusts.
SYNOPSIS:
The dominant Atlantic high-pressure system continues to support brisk winds and elevated seas across the region. The presence of Saharan dust will account for hazy conditions and aid in limiting precipitation across the local area. Persons with respiratory illnesses and/or allergies should take the necessary precautions.
Moderate to rough sea conditions will prevail for the next few days. Small craft operators and sea bathers should continue exercising caution.
STATE OF THE SEA: Moderate to rough WAVES/SWELLS: 6 to 8 feet
SPECIAL FEATURES: None.
OUTLOOK through Tuesday midday: Partly cloudy and breezy with brief local showers.
FORECASTER: Gordon