DATE ISSUED: Wednesday, June 23, 2021 @ 12:00 LST (16:00 UTC)
VALID UNTIL: Thursday midday (12:00 LST) June 24, 2021
WEATHER:
This afternoon through Thursday midday: Partly cloudy and breezy with passing showers.
Forecast High: 31°C / 88°F Forecast Low: 26°C / 79°F
Sunset Today: 6:51 P.M. Sunrise Tomorrow: 5:38 A.M.
SURFACE WINDS:
Today through Thursday morning: Northeast to east-northeast with a gentle to fresh breeze of 10 to 18 mph and higher possible gusts.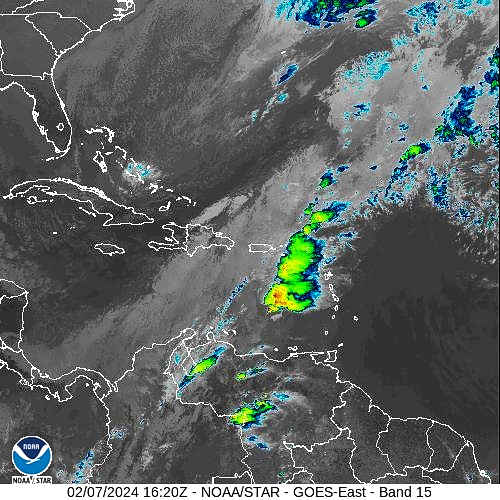 SYNOPSIS:
The strengthened Atlantic high-pressure ridge continues to generate brisk winds across the region. Moisture being transported in these brisk trade winds may trigger some passing showers across the local area.
Marine conditions will be slight to moderate for the next several days.
STATE OF THE SEA: Slight to Moderate WAVES/SWELLS: 4 to 5 feet
SPECIAL FEATURES: An area of disorganized showers and thunderstorms, associated with a tropical wave located a few hundred miles south-southeast of St Maarten, is unlikely to develop. Regardless of development this disturbance could bring heavy showers to the Southern Windward islands.
THIS DISTURBANCE DOES NOT POSE A DIRECT THREAT TO ST MAARTEN.
OUTLOOK through Friday midday: Partly cloudy, hazy and breezy with isolated showers.
FORECASTER: Pierre