DATE ISSUED: Friday, April 09, 2021 @ 12:00 LST (16:00 UTC)
VALID UNTIL: Saturday midday (12:00 LST) April 10, 2021
WEATHER:
This afternoon through Saturday midday: Fair to partly cloudy with a brief local shower possible.
Forecast High: 30°C / 86°F
Forecast Low: 24°C / 75°F
Sunset Today: 6:27 P.M.
Sunrise Tomorrow: 5:59 A.M.
SURFACE WINDS:
This afternoon through Saturday midday: Northeasterly with a gentle to moderate breeze of 08 to 16 mph.
SYNOPSIS:
A dry and stable atmosphere will limit shower activity over the next several days. Additionally, a weak Atlantic high-pressure system will maintain mostly gentle north-easterly winds.
Seas peaking near 7 feet are expected through the forecast period due to northeasterly swells. These swells will produce breaking waves, mostly along the northern and eastern shores. Small craft operators and sea bathers are advised to exercise caution.
STATE OF THE SEA: Slight to moderate
WAVES/SWELLS: 4 to 7 feet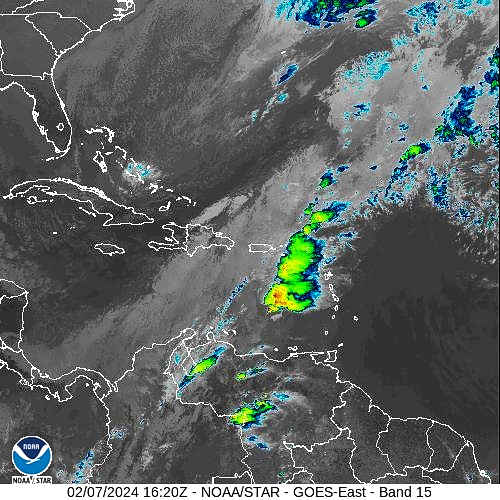 SPECIAL FEATURES: None.
OUTLOOK through Sunday midday: Partly cloudy with a few brief showers possible.
FORECASTER: Connor