From left: Daniela Richardson, State Secretary Alexandra van Huffelen, Vashti Hooker, Minister Hanke Bruins Slot, Deputy Commissioner Claudia Toet, Althea Merkman and Commissioner Alida Francis dancing to "Our Girls Going To Shine Tonight".

ST. EUSTATIUS--An event dubbed a "Potpourri of Statia Culture" was held at Gwendoline van Putten School on Wednesday, September 7, for the inaugural visit of Minister of Home Affairs and Kingdom Relations Hanke Bruins Slot, State Secretary of Kingdom Relations and Digitisation Alexandra van Huffelen and their delegation.
The event was organised by the public entity St. Eustatius under the direction of Vashti Hooker and Daniela Richardson of the Culture Department. It featured a stroll down "Memory Lane" of Statia's rich history through song, dance, poetry, masquerading, cultural expressions and performances.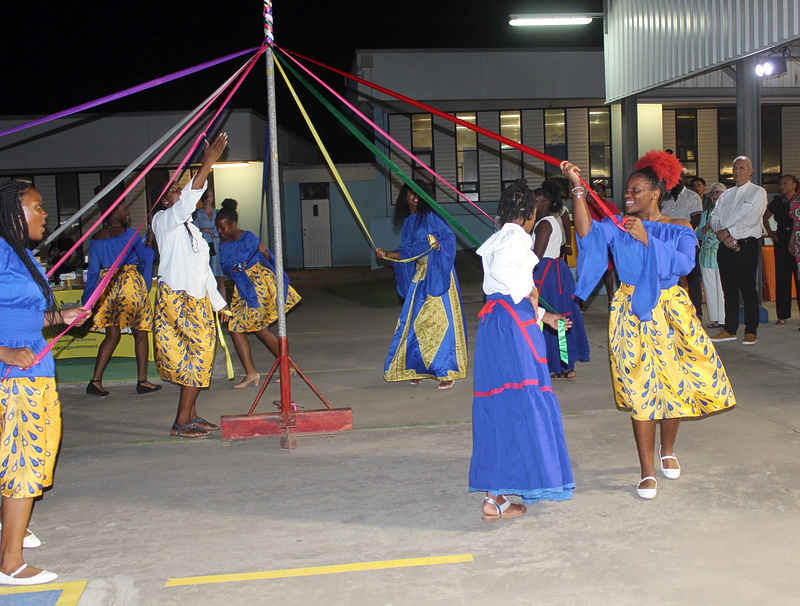 Aloei Dancers dancing around the Maypole.
Among the highlights of the evening were the trio of voices of Hooker, Ursala Lopes and Ingra Bennett; a rendition of musical The Lion King's "Circle of Life" under Hooker's leadership; and a salute to Statia Carnival through the years. Ms. Aggi also performed and the Aloei Dancers danced around the Maypole.
Government Commissioner Alida Francis gave a speech about the struggles of slavery.
Bruins Slot and Van Huffelen also addressed those attending and commended the "wonderful" performances.
The last performance was a surprise act by Althea Merkman, who performed the song "Our Girls Going To Shine Tonight". The performance featured a three-step dance which was dedicated to the visiting minister and state secretary and Statia's two government commissioners, four women in leading positions who all interacted with the performance.
Locally made drinks and snacks were served, including bread and potato puddings, hard cakes and many other delicious items which were on hand to sample.