Signing at building site.
KRALENDIJK--The Executive Council of Bonaire and Hugo de Jonge, Dutch Minister for Housing and Spatial Planning, on Thursday jointly signed the housing deal for Bonaire. The aim is to realise 2,124 affordable homes by the end of 2030.
The Netherlands will be making 10 million euros available for the first phase for 600 units and the accompanying infrastructure, as of 2025.
At this moment in time, construction activities are in full swing on Bonaire. In total 444 social rental homes and affordable owner-occupied homes will be built by the end of 2025.
The go-ahead has now been given to build 600 homes as of 2025, with a further 1,100 homes to be added in the later phases of the housing deal. This amounts to 2,124 extra affordable homes by the end of 2030.
According to a release by the National Service Caribbean Netherlands RCN, there is a great need to build new homes. The shortage of affordable accommodations became a lot more acute in recent years, as the population has grown significantly from 15,528 inhabitants in 2010 to 24,090 on January 1, 2023.
"This means more people are looking for a home. The prices of building materials have also increased, while only a limited capacity is available. People from lower- and medium-income households are finding it particularly difficult to find an affordable home."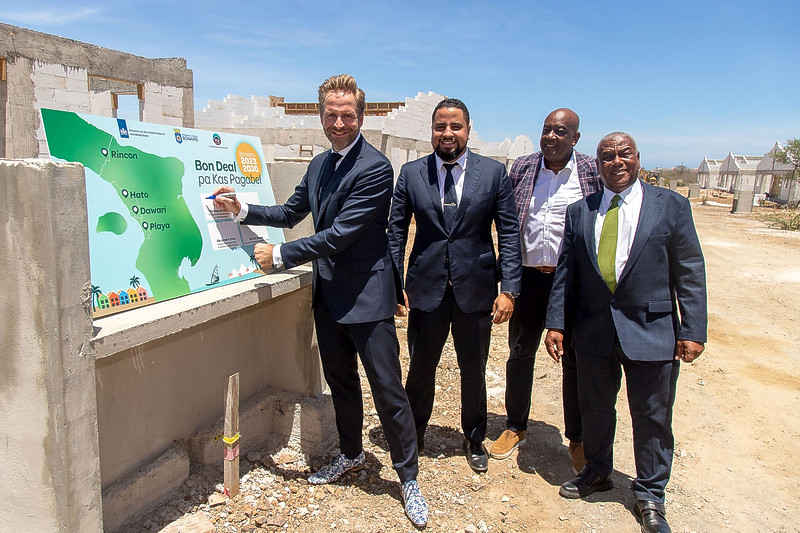 A strategy to eliminate energy-poverty was kicked off.
The housing deal is a joint effort by the Executive Council of Bonaire and Minister De Jonge to achieve real change in this area. It was signed at the Hato site, where "Fundashon Cas Boneriano" (FCB) is currently building 254 homes, some of which are social rental units, while others are affordable owner-occupied houses. They are being constructed using prefab modules, so they can be completed more quickly.
A lot of them will be energy-efficient as they are to feature solar panels and battery-based energy storage.
During a visit to the construction site, De Jonge kicked off the public entity's strategy towards eliminating energy-poverty. The Ministries of Home Affairs and Kingdom Relations and of Economic Affairs and Climate Policy have jointly assigned 900,000 euros for this purpose.
The project at the Hato site is one of a kind. It is rarely seen that prefab construction, solar panels and battery-based storage are combined on such a large scale.
The prefab production factory will be based on Bonaire in the future, so that building can take place with local resources and people.
"Water- en Elektriciteitsbedrijf Bonaire" (WEB) will be monitoring this pilot to get a better insight into the personal consumption of tenants during the day, as well as the accompanying impact on the grid.
The housing deal is part of the Housing and Spatial Planning policy agenda for the Caribbean Netherlands. This was published on January 22, 2023.
The aim is to make affordable living possible for more people and to protect the living environment on the islands. That is why focus is also being placed on better rental subsidies, rental committees on Saba and St. Eustatius and improved financing possibilities for buyers who find it difficult to get mortgages for their owner-occupied homes.
A new spatial development programme will help to better protect the beautiful and unique features on land and sea. This programme will be released to the public on Bonaire, Saba and St. Eustatius very shortly. Everyone will then be able to react to it.