From left: Acting Head of the Labor Department Linda Froston, Raymond Jessurun, Prime Minister Silveria Jacobs and WICLU President Claire Elshot.
LITTLE BAY--The spotlight shone on four Labor heroes who have worked tirelessly on improving the rights of workers and workers' organisations during a ceremony held at Divi Little Bay Beach Resort's Sea Breeze on Labor Day, Monday, May 1.
Receiving the Most Historic Labor award was Raymond Jessurun, while the Most Impactful award went to Windward Islands Civil Servants/Private Sector Union (WICSU/PSU) President Sharon Cangieter and "The Spirit of Labor" award went to Velda George Myler.
Special award recognition from the Windward Islands Teachers Union (WITU) went to Glenda Mussen and George-Myler. The event was themed: "Improving the Workers' Experience."
Cangieter
Born in Aruba, Cangieter was exposed to trade unionism from the tender age of seven through her grandfather William Cannegieter when a taxi union was formed. She currently serves as Project Officer at the Division of Education Innovations. In 2021, Cangieter was elected President of the WICSU-PSU. The union has secured a number of accomplishments under Cangieter's leadership. She had established a Men's and Women's Committee, responsible for reaching out to members and people in society to assist whenever and wherever possible. She has also re-established contact with Public Service International (PSI), Caribbean Public Servants Association (CPSA) and has established close contact with the International Labor Organization (ILO). Cangieter's main goal is to organise workshops where members can learn about their rights and obligations. She also wants to see WICSU-PSU being housed in its own building and envisions sitting around the table in a "workforce" with the Council of Ministers to create a roadmap on the way forward for the civil core (benefits, rights and responsibilities) and not only have meetings to address issues when they arise.
She is also President of the Cay Bay Community Council; National Director of Special Olympics St. Maarten and will be traveling to Berlin, Germany in June with a small delegation to represent St. Maarten.
Jessurun
Curacao-born Jessurun has a long history in trade unionism having joined the ABVO union, and the General Public Servants Union in 1977 in Curacao. He held several positions in unions and union committees in his earlier years in trade unionism including as President, General Board Member and Secretary. He currently serves as advisor of the Windward Islands Chamber of Labor Union (WICLU) and ABVO St. Maarten union since 2010. He is a passionate human rights defender and is also the first Vice President of the St. Maarten Seniors and Pensioners Association since 2010; co-coordinator of the St. Maarten Anti-Poverty Platform and the St. Maarten Consumers Coalition and co-founder and Secretary of the St. Maarten Alzheimer Foundation. He also holds several other positions locally and regionally and has made an immense contribution to workers' rights over the years.
George-Myler
Dominica born George-Myler, who has been living in St. Maarten since 1981, joined a union since she started working at St. Maarten Medical Center (SMMC) in 2005. She caters to the needs of employees and is assertive, straightforward, direct and is always willing to help, explain and even teach employees who need assistance in understanding their salary slips and any other issues to do with their salary slips and hours worked. She stays out of the limelight and performs at a high standard. It is because of her knowledge and professional attitude in rendering service in this position, that she was nominated for the award.
Windward Islands Chamber of Labor Unions (WICLU) President Claire Elshot said Labor Day commemorates past Labor struggles against workers' rights violations, including lengthy workdays, and weeks, poor conditions, and child Labor. She said all unions under the umbrella of WICLU representing workers in the private, public, or semi-public sector, deserve an award. "The last three years, during and post the COVID-19 pandemic, they have had to face endless challenges. Unified meetings for their membership were organised at the Little League Ballpark, and there were marches held in the streets of Philipsburg that led to the Government Administration Building in protest of the imposed regressive cuts," said Elshot.
"Unions went to court several times in regard to the injustice of workers, as there were numerous violations of the collective labor agreements such as the garnishing of the workers' rightful pay."
She commended the unions representing justice workers, whom she said have been working tirelessly, consistently, and around the clock to secure the rights of their members. "Many thought that after 12 years of country St. Maarten, all would have been lost. These workers had numerous Ministers of Justice to deal with who gave many promises where it pertained to their function as officers in the justice chain and other aspects of their rights and privileges; these however were never finalised," said Elshot.
"Today the unions can look back at their successful participation and accomplishments in returning justice to the hard-working men and women in the justice departments. A big thank you to the Minister of Justice for her consideration and confidence in these workers and her tireless work in this respect in making this happen."
She also commended all unions in St Maarten, noting that "we are not just here today in support of workers, or in commemoration of the Haymarket Riot in Chicago (1886), the event that in 1889 got international recognition as International Workers' Day or May Day. We are here to commemorate our own National Heroes for making Sint Maarten workers' organisations stronger amidst the challenges experienced and hereby "Improving the Workers Experience."
She added: "All the unions can help the WICLU in one way or another, if we were to write a book about the experience of their workers in the last decade, we all can draw the same conclusion that much more needs to be done to improve the workers' conditions, rights and benefits so that they can benefit and have more positive experiences at work. A number of unions in various sectors have already started the advocacy for laws to better protect the workers, their rights, and benefits."
She stressed that WICLU supported by all unions will continue the dialogue with the Parliament of Sint Maarten, and the Council of Ministers on essential social policies to protect workers' rights and decent working conditions in "Improving the Worker's Experience."
"We need flexibility in the Labor market policies that would give better opportunities and social protection to our workers and their families. The productivity and gains from the experience post-COVID-19 era, with public policies can make it happen. As social partners in collaboration and cooperation with the Tripartite Committee and representation on the SER [Social Economic Council] we can make it happen."
She wished workers a happy and blessed International Workers' Day.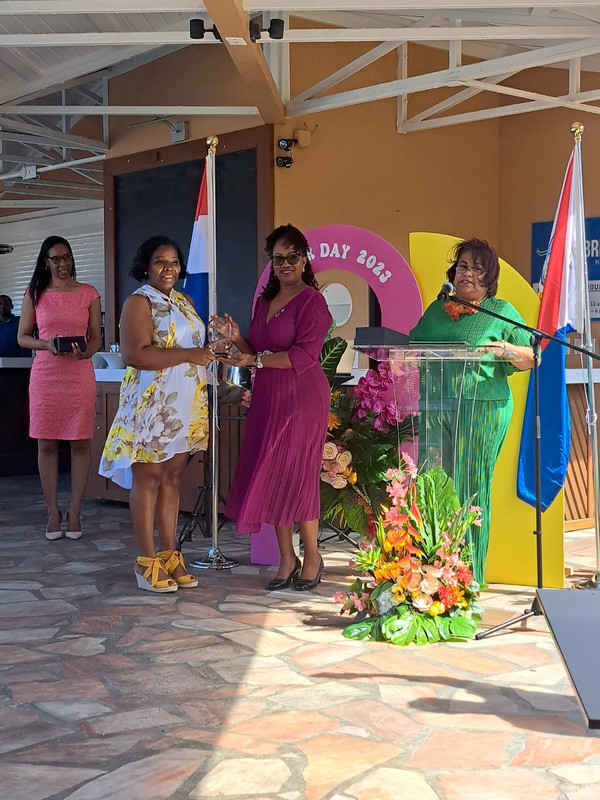 Sharon Cangieter (second left) accepts her award from Prime Minister Silveria Jacobs (third left), while WICLU President Claire Elshot (right) and Acting Head of the Labor Department Linda Froston (left) look on.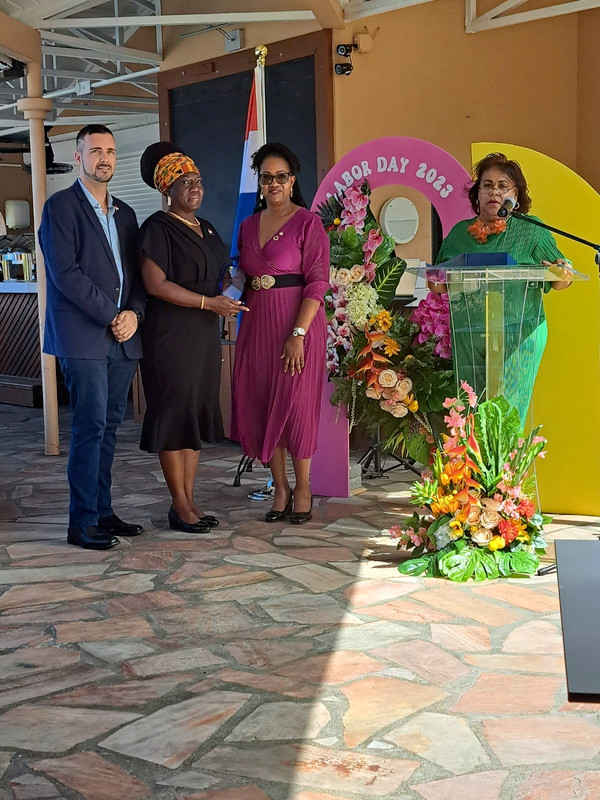 From left: WITU President Stuart Johnson, Glenda Mussen, Prime Minister Silveria Jacobs and WICLU President Claire Elshot.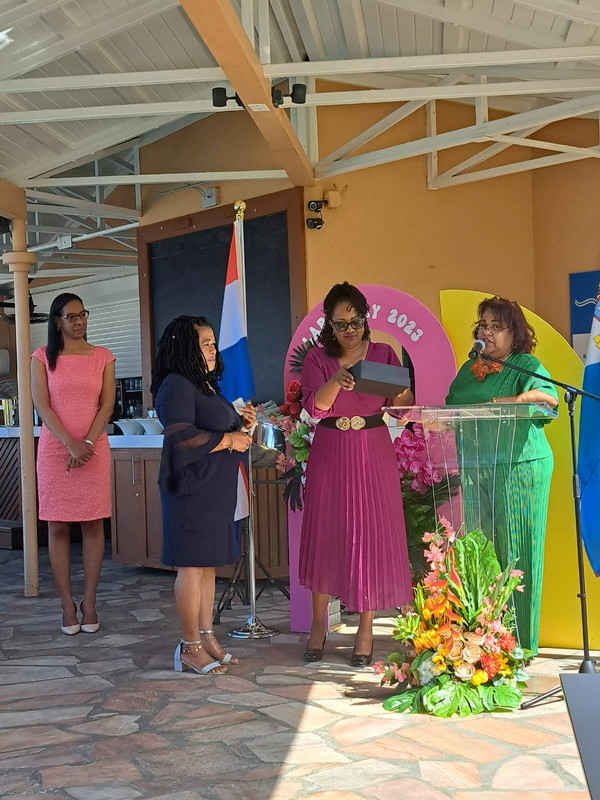 From left: Acting Head of the Labor Department Linda Froston, Velda George-Myler, Prime Minister Silveria Jacobs and WICLU President Claire Elshot.