A scene at PJIA after the outage.
AIRPORT--Lights went off, computers shut down and fans stopped spinning just after 10:00am today when St. Maarten was gripped by a country-wide power outage of unknown origin. The continuation of the meeting of the Central Committee of Parliament on the 2021 draft budget was postponed until further notice as Parliament does not have a generator.

The generator did not kick in at the country's main gateway, Princess Juliana International Airport (PJIA), putting the facility in partial darkness for just under an hour. During the outage, Chief Operations Officer Michel Hyman said the technical team was assessing the probable cause of the failure of the generator and power would have been restored soonest.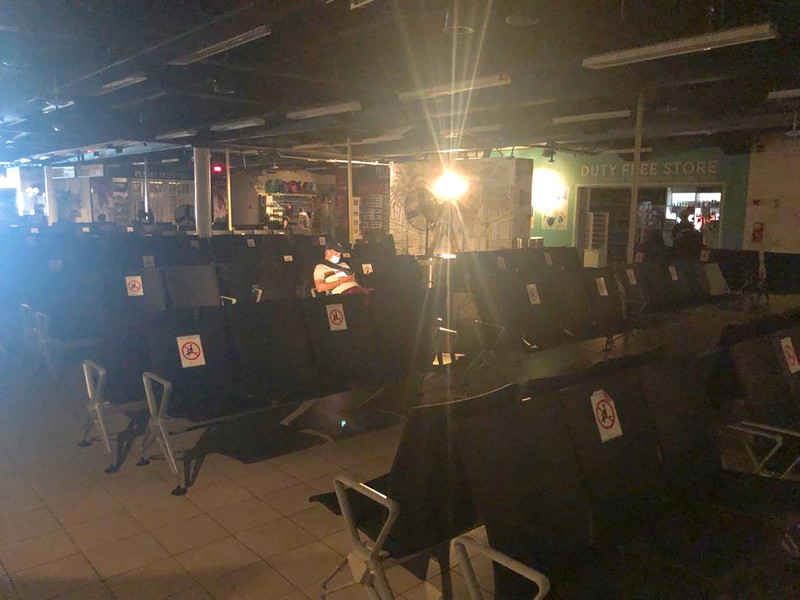 A few passengers were seen sitting in the partially dark airport on their mobile phones. The generator failure irked many employees who were upset that the country's main gateway was affected in this way. It could not be ascertained whether the tower generator was also affected and how this affected flight management. Power was restored at PJIA in just under an hour.
During the outage, the airport's Operations Department as well as the Immigration officials and others had been trying to work together to get flights up and running. "Things are working out. There are just a few delays, but we are trying to work with what we have - everyone is trying to get the teamwork going," the airport's public relations official told The Daily Herald in an invited comment, just before power was restored.
"We are experiencing an island-wide black out," utilities provider GEBE said in a brief statement. "The power plant technicians have gone into immediate action assessing the problem(s). A full update will be sent once the information becomes available," GEBE added.
The company apologised for any inconvenience caused by the outage.