From left: Minister Kyle Hodge (witnessing), Premier Ellis Lorenzo Webster and Richard Schulze signing.
ANGUILLA--The CuisinArt Resort and Golf Course has been sold to Richard Schulze of Wischerman Lifestyle Hospitality Anguilla, who is the founder and Chief Executive Officer (CEO) of Best Buy in the USA. The memorandum of understanding (MOU) was signed on Wednesday, December 16, at the hotel in front of government officials and hotel staff.
Premier Ellis Lorenzo Webster thanked the Schulze family for committing to Anguilla, saying that the property will make us proud. He said he is pleased that the company is committed to helping the community. Webster also thanked the late Lee Rizzuto and his family for having the vision to create the property.
Susan Hoff, daughter of Schulze, introduced her father, who started in a small way with two shops in the Midwest that have extended to 1,009 stores now. He is a well-known businessman and billionaire.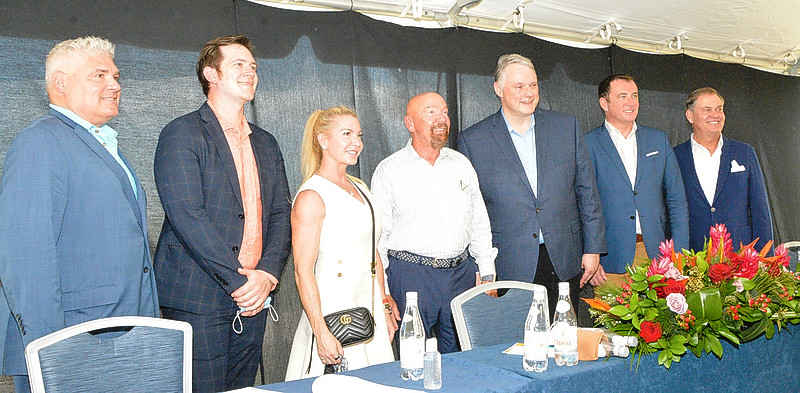 Top table at the signing with Susan Hoff and Richard Schulze in centre with Executive members of Wischermann and Olympus Ventures.
Schulze said the day was special for his family and a new challenge for them. He thanked all who had made the event possible and mentioned Premier Webster and their good relationship. He praised the late Rizzuto for his vision in founding CuisinArt, saying he hoped to extend that vision.
He spoke of his plans for the hotel, noting that it has the potential to be the best in the Caribbean and he intends to make it that. He also wants to see the golf course listed in the top 100 rated golf courses of the world and to have at least one of the hotel's restaurants named a Michelin restaurant.
He plans to upgrade the hydroponic gardens to produce the best vegetables possible; to offer guests culinary specialities with almost anything they desire; to have deep sea fishing expeditions employing local fisherman; and to have water sports. He also indicated that as well as golf, tennis and bocce he plans an archery range, a golf academy, a tropical pool with waterfalls and diving rocks, and even horses and stables.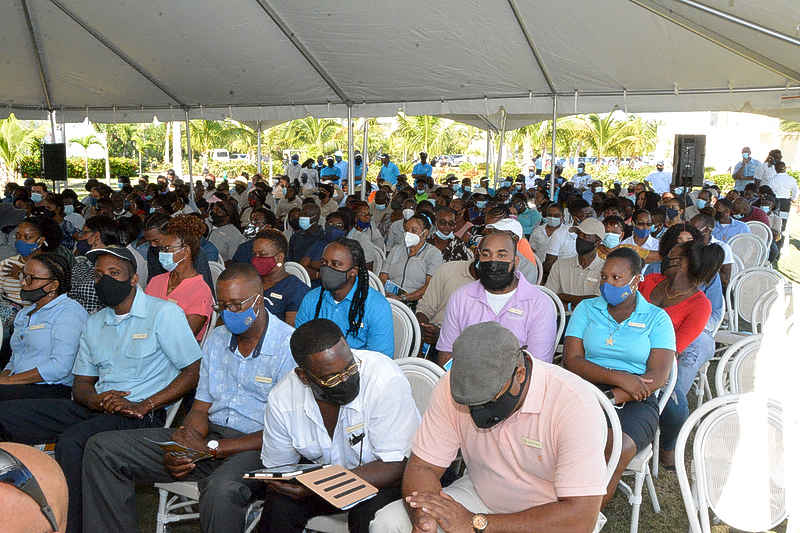 Staff members of CuisinArt at the signing.
He stressed that there are 387 acres of land and so it is possible to make it exciting and productive. He revealed that he is in the process of purchasing four Embraer planes that will provide a shuttle service from Florida to Anguilla so that guests can reach the island easily.
Other speakers at the event were the head of the Management Team, Paul Wischermann, new Managing Director Simon Fricker, and Manager of the Golf Course, Ian Bosman. Wischerman said he plans for his team to work closely with the local team and said it will be a great experience as he has high expectations, with the guest experience being vital.
Fricker has worked in many hotels worldwide, most recently in the Middle East and Germany. He said he is very much looking forward to working with the staff at CuisinArt. Bosman said he is honoured to be in Anguilla and one of his aims is to teach every child in Anguilla to play golf.