Thunderz player about to see a pitch from Los Tiburones at the Fredrick 'Sonny' Cranston Sports Field on September 1st.
STATIA--Thunderz were rearing to go at the first pitch and came out swinging and put up big numbers. Thunderz beat Los Tiburones 16-6 and continued their winning streak. Before the game Thunderz honoured Alecia 'Wy' Robins.
Robins sadly passed away in August 2021. She was known far and wide as a superfan of the Thunderz softball team. Her devotion to the team was so heartfelt that upon her passing, the team went about making a tribute to her. Representatives of the Statia Softball Association SESBA, Daniela Richardson and Elska Gibbs asked the teams to line up for a minute of silence for the ardent supporter.
Robins has been a Thunderz fan from the onset of the SESBA since the team was formed in 2011.
Round 3 action will continue on September 4 when the Golden Ray take on the Thunderz starting at 3:30pm and the second game will feature Lions at Young Kings. Sunday will also see softball action when the Golden Rays battle the Tiburones starting at 3:30pm and the second game will feature Young Kings at the Thunderz.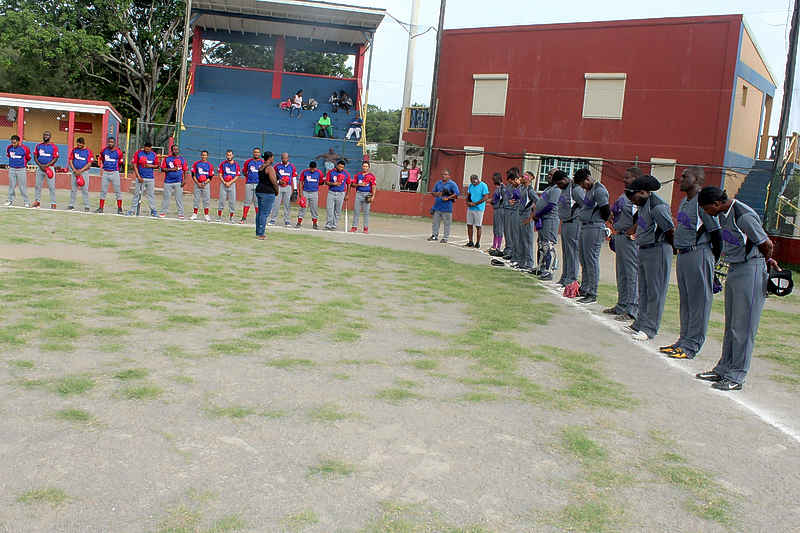 Thunderz and Los Tiburones during the moment of silence for Alecia 'Wy' Robins