Athletes race for the water at the start of Race 1 of Sunday's Sunset Beach Triple Mini Triathlon. (Robert Luckock photo)
MAHO—St. Barths triathlete Fabien Husson won all three of the mini triathlons during Sunday's Sunset Beach Bar Triple Mini Triathlon held in Beacon Hill organised by the Friendly Island Triathlon Association (FITA).
Husson was part of a strong contingent of athletes from St. Barths who went head-to-head against the top performers from St. Martin and St. Maarten in the event which saw early morning rain leave slippery roads for the first cycle segment. But sunshine returned for the remainder of the race.
On the menu for the 60 or so athletes participating was a 200-metre swim, an 8K bike segment and a 2K run. The order was changed for each triathlon, and winners had to have raced in all three triathlons.
Husson was dominant in each triathlon, winning in a time of 23:18, 24:09, and 24:50 to deny last year's winner, SXM Tri Academie's finest triathlete Gregory Pigeon who settled for second overall. Third overall went to St. Barths's Stephane Lenoir. These three battled it out in each triathlon, separated by less than a minute.
Caroline Delplanque was again on top form to win the women's category, in 28:28, 29:10 and 29:16 to lead second placed Celine Verdonck from SXtreme Runners and St. Barth's Jessica Pearson Outil.
It was good to see Andy Guibreteau, more commonly seen mountain biking, now making his mark in triathlons. He finished all three triathlons in the middle of the pack with respectable times as the top Junior.
Three of the youngest competitors, Rylan Benjamin (8), Mia Pigeon (10, daughter of Gregory Pigeon), Adriaan Copplemans (11) and Meks Teunissen were trained by Krispijn Teunissen. Copplemans completed all three triathlons, beating his mum in the process. His times were 33:50, 34:57, and 34:48.
Meks Teunissen (12) also completed all three triathlons with times of 36:04, 38:21 and 39:15. Benjamin completed his triathlon in a time of 44:28 and Pigeon in 50:32.
For the Pre-Junior podium it was Adriaan Copplemans first, Meks Teunissen second and Rylan Benjamin third. Mia Pigeon was first Pre-Junior girl.
"It was great to see the St. Barths triathletes coming over for this as they normally compete in the Boardwalk Triathlon only," commented co-organiser Susy Piscione. "But it's interesting to note that the concept of three mini triathlons is new in Europe and is becoming a big event, and we have been organising it here since the 1980s."
Complete results and tines are on the Tri Sport website.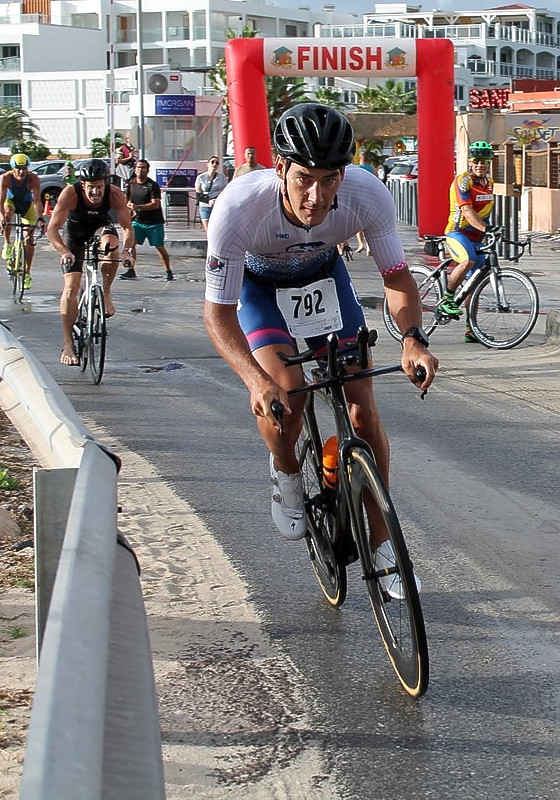 St. Barths's Fabien Husson leads Gregory Pigeon at the start of the bike segment in Race 1 on Sunday.