The 21K runners depart from the Divi Little Bay Resort on Sunday. (Robert Luckock photo)
BELAIR—Sunday's unprecedented turn out for the Annual Coors Light half Marathon, 10K and 5K, has set a bench mark for participation thanks to a last-minute surge in registration and was declared a great success. Some 227 runners signed up and 210 finished their individual events.

If the heat was not enough to deal with, a tough climb up to the finish banner on Fort Amsterdam for all three categories ensured your heart rate was not getting a break that quickly, even with the finish line in site. The 21K started first at 6:30am, the 10k at 7:00am and the 5K at 7:05am.
After the start of the 21K from the Divi Little Bay Resort, it was Inter Generation runner Jeannot Gouin who crossed the finish line first in 1:19:41, followed by Alain Boucaud from the same club in 1:21:32. Third place went to Steve Duzanson (1:21:44) who continues to produce the magic that has always propelled him to success. He was Just 12 second adrift of getting second place.
First female finisher was Helene Depoorter, seventh overall, in 1:29:42. Some 61 runners finished the 21K.
The 10K race with 69 participants was won by Gabriel Pertusot from SXM Tri Academie in 41:27, James Granger was second in 41:43, and third place went to Emmanuel Luzon from SXtreme Runners in 44:05. The first female finisher was Agnes Puigcerver in 50:27, sixth overall.
Teenager Andy Guibreteau from Tri Sport Tigers continues to impress in all sports after he sprinted to the 5K win in 20:25 beating a field of 80 runners. Mathis Natchimie from SXM Tri Academie was second (20:51) and third went to SXtreme runner Nolhan Charlet in 22:26. Sarah Jane Hoitsema was the first female to finish, 13th overall, in 26:40.
"The course was more difficult than the previous route around the Lagoon, but offered a special glimpse and spectacular views of Philipsburg and Little Bay," said co-organiser Susy Piscione from St. Maarten Road Runners afterwards. "It was very hot, so next time we will start earlier. The half marathon was a bit short at only 20Km instead of the usual 21K, but more difficult so we felt it evened out!"
Added President of St. Maarten Roadrunners, Krispijn Teunissen: "The support of sponsors and efforts of many volunteers ensured success. The handcrafted wooden medals were created by Ronan Garnier from .COM in Hope Estate and awarded to every finisher. A bonus prize, a weekend stay at Divi Little Bay Resort, was raffled among the participants.
"Prizes that were won by the top three in the various categories, included a men's watch from Ballerina Jewellers, gift vouchers from Sportfit and Carrefour, as well as restaurant vouchers from Top Carrot, sporting goods from Tri-Sport and presents from Baker Tilly.
"We would also mention the support from the Dynamics Club who came out with eight young runners from their club as well as many volunteers. We also had MarSea, PDG, Gemini, Klass Electronics as a sponsor and prizes from Aquamania and Indulge by the Sea Spa."
St. Maarten Road Runners new board comprises Berit Bus, Paul Melskens and Krispijn Teunissen as new President. Older board members are taking a step back but will be available for help and support.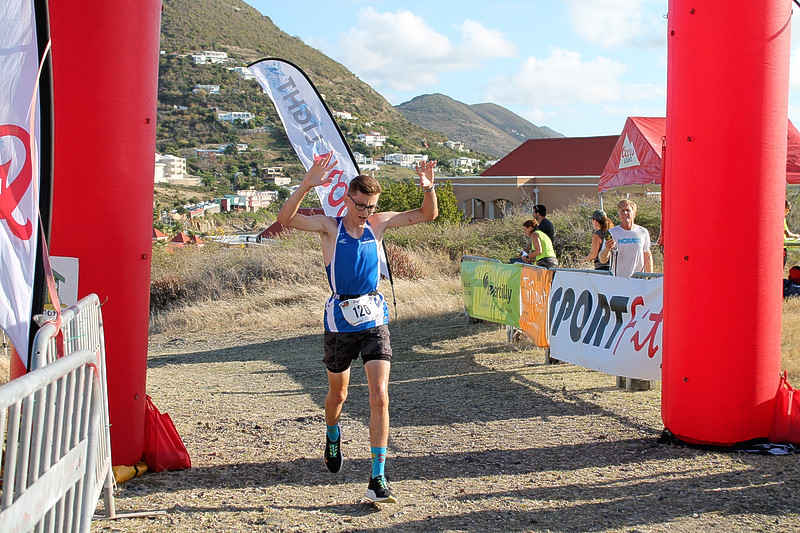 Tri Sport Tiger's Andy Guibreteau wins the 5K race. (Robert Luckock photo)