Some of the sculptures.
~ To feature 300 sculptures ~
LITTLE BAY--Visitors and residents will soon have another attraction to visit below sea level as The Spirit of SXM Sculpture Park, an underwater museum, is currently being installed six metres under the sea in Little Bay.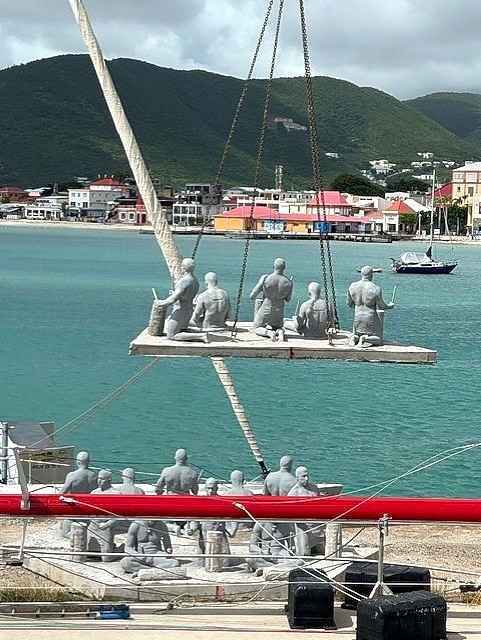 A crane was used to place them.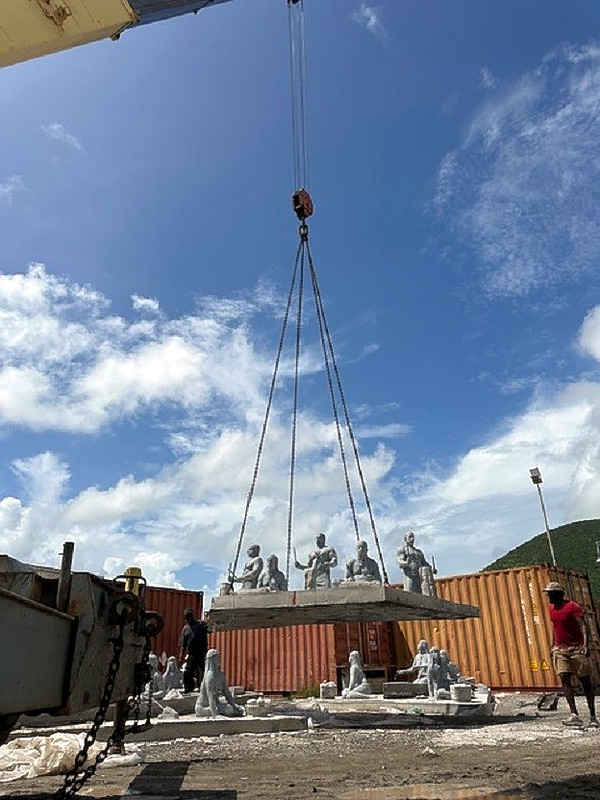 Being transferred to Bobby's Marina last week.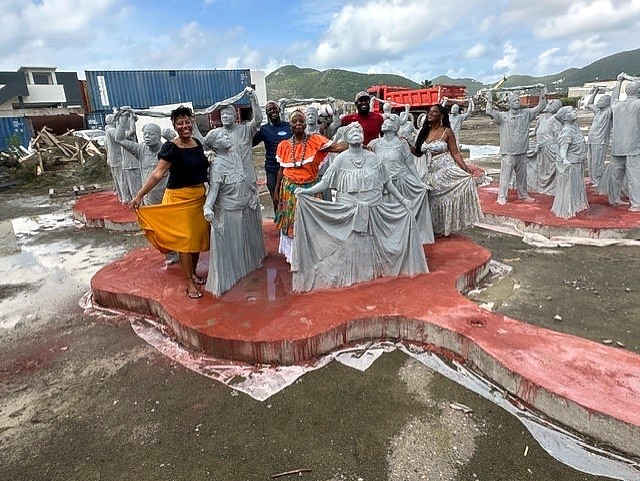 Some of the personalities who were life-cast, standing next to their sculptures that will be installed in the underwater museum. From left are: Riselle Celestina, José Figueroa, Evita Henderson, Don Arndell and Amaris Richardson.
UK-based company Deep Blue Sea is developing the project with an investment of US $1.2 million. It is slated to be opened on December 15, Deep Blue Sea representative Alexis Cambden told The Daily Herald on Monday.
Cambden said the underwater museum will be a 300-sculpture snorkelling adventure and while the attraction is ticketed for cruise and stay-over tourists, a series of free sessions will be done for the local community. A number of local personalities have been life-cast and their sculptures will be featured in the museum.
"We have built an underwater gallery that celebrates the history and culture of St. Maarten whilst also creating an artificial reef for marine life and corals to grow and thrive," stated Cambden.
"We have life-cast numerous locals from the island, from Evita [Henderson – Ed.] who runs the Arts and Crafts shop in Cole Bay to King James and King Beau Beau."
Henderson is excited about being one of the sculptures to be featured. "It's always wonderful to have a new tourism product. Even though we are a small island, having this sculpture park here is of great significance for us. I'm so pleased to be a part of it and can't wait to see it," Henderson shared as she welcomed The Spirit of SXM Sculpture Park to the island.
Half of the museum is being installed this week. The initiative has drawn a lot of interest from locals and keen ocean lovers.
"On Tuesday [today], they [the sculptures] will be set in the ocean forever. It's going to be very exciting and really something quite cool."
Access to the museum will be primarily by boat and thus far tour operator Aqua Mania Adventures is on board to transport land visitors to and from the attraction and Out Island Charters for cruise ship visitors. Details are being finalised with other tour operators and boat charters.
Cambden said Deep Blue Sea chose St. Maarten for this project due to several factors. "We
picked St. Maarten because of its natural beauty, its welcoming attitude and their encouragement to build something special for the island and its marine life."
Deep Blue Sea is behind many other sea installations in Cyprus, Lanzarote, Bali and the Maldives. Cambden said this is the first snorkelling park which is not deep diving and is therefore accessible to everyone and not just scuba divers.
"The museum will be six metres deep, so very accessible and there will be resting buoys throughout to have a breather," she noted.