Group photo with Tourism Office staff, Chamber of Commerce President Angèle Dormoy and chefs who received signed copies of the guide. (Robert Luckock photo)
MARIGOT--St. Martin Tourism Office held a press conference on Monday in the Grand Case Beach Club conference centre to launch the first edition of its "Saint-Martin Friendly Cuisine" restaurant guide, a project that evolved from the highly successful 2022 Gastronomy Festival.
Several of the chefs and restaurant owners featured in the publication were present. The guide is in French and English will be distributed to French-side hotels, villas, port, airports, boat charters and restaurants, and will be extended to Dutch-side hotels.
Some 10,000 copies will be printed – 5,000 hardback copies and 5,000 soft copies – and 10% extra copies will be ordered to replenish ones taken from hotel rooms by guests. The guide revisits the highlights of the 2022 festival and the winners.
Tourism Office Head of Communications Ricardo Bethel explained that 109 restaurants are in the guide.
"We selected 109 because those are the ones that accepted to be referred on our tourism board website because we also invested in a tool called Systeme d'Information Touristique where every user that has a tourism product could have their own personalised page on the Tourism Office website that they can control," Bethel said. "We want to make sure that everyone who comes to the island has a copy.
"We are also putting a big paid budget behind it on social media. Our target is to reach at least 15 million people by the end of the year, in terms of making sure they've seen the guide.
"The website has also done very well. For the past four months we've had over 6.4 million persons visit the website. There's a lot of money going into investing in the communication tools of the Tourism Office, making sure everything is documented properly and the right key words used.
"We are the best marketing agency for anyone who wants to do business on this island, as we travel around the world to promote the island. We have representative agencies around the world. No one else can offer the type of marketing to reach potential tourists that we can."
Copies signed by Tourism Office President Valèrie Damaseau were presented to some of those who had paid to be part of the guide, including restaurants Be Kool, La Source, La Terrasse, Sunset, Rancho del Sol, Boho Beach, L'Pied dans L'Sable, La Playa, L'Atelier, Le Temps des Cerises, Ocean 82, Télègraphe, 978 Beach, Sanctorum, Coco Beach, Mainson Mere, Café Plantation, Le Cottage, Pirate hideout beach bar restaurant, Fabulous Feasts, Villa Hibiscus, Blue Martini, Korner, Bisto Caraibes, Les Oliviers, Captain Frenchy, Villa Royale Creole Food, Kakao, Java, Aux Tissés, La Villa, Spiga, Karibuni, and Le Domaine.
The 2023 Gastronomy Festival is scheduled for November 11-22.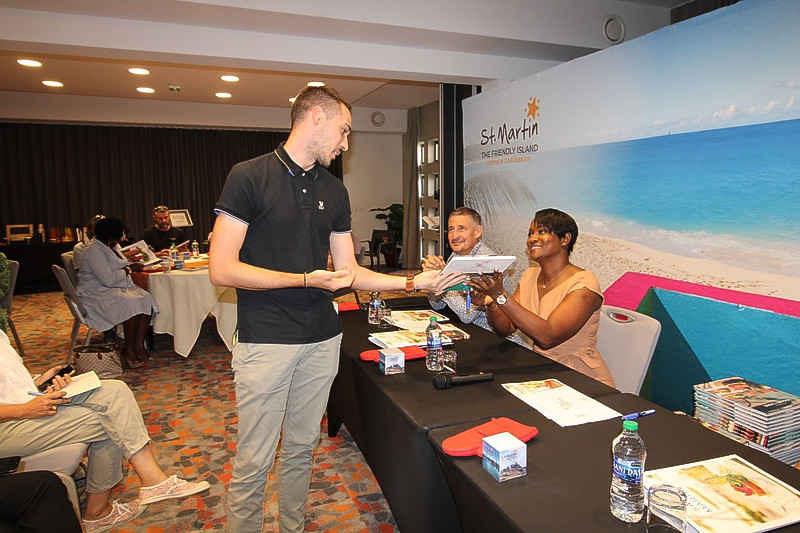 St. Martin Tourism Office President Valèrie Damaseau presents a signed copy of the guide as Oswen Corbel (left) from Comité de Direction looks on. (Robert Luckock photo)