One of the many projects financed by R4CR grants, Funtopia Moko Jumbie project.
PHILIPSBURG--Resources for Community Resilience R4CR recently reminded local civil society organisations (CSOs) that the deadline for submitting project proposals for Round-6 financing is quickly approaching.
With a total of US $750,000 available in grants for post-Hurricane Irma-related social projects, this presents a great opportunity for local non-profit organisations to secure funding for projects that make a significant contribution to the social reconstruction of St. Maarten, it was stated in a press release on Tuesday.
The R4CR programme includes a grant scheme as funding mechanism for community and social rehabilitation initiatives in St. Maarten, as well as focusing on improving the capacity of local CSOs in reconstruction and resilience activities post Hurricane Irma. Project activities by locally registered CSOs that are eligible for funding can cover subject areas such as neighbourhood initiatives, sports, nature/environment, culture, poverty relief, day care centers/after school programmes, youth employment, skills development, psycho-social support or preventing gender-based violence.
CSOs are encouraged to submit project proposals that are aligned with one (or more) of the above mentioned subject areas. The R4CR programme will end in 2024, so CSOs have limited time left to secure funding before the programme ends.
To be eligible for funding, CSOs must be officially registered and active on the Dutch side of the island, in possession of all legal documents and submit a technical proposal and a financial proposal (templates for both must be downloaded from www.r4cr.org/downloads). The maximum grant amount per project is US $90,000 for a single CSO project or US $120,000 for a collaborative project with two or more CSOs.
Since the launch of R4CR in 2020, the programme has supported 63 small-scale projects benefitting more than 5,100 persons directly, disbursed or committed US $3.2 million to local CSOs and provided 24 free training courses (in collaboration with 4C Foundation/NPOwer) to strengthen the capacity of local organisations.
The R4CR programme is financed by the government of the Netherlands via the St. Maarten Trust Fund. The latter is administered by the World Bank and implemented by the National Recovery Programme Bureau (NRPB). The R4CR programme is locally managed by the International Cooperation Agency of the Association of Netherlands Municipalities VNGI in close cooperation with 4C Foundation and other local partners.
For more information about the R4CR programme or an overview of all current projects, please visit www.r4cr.org or the Facebook page (R4CRSXM).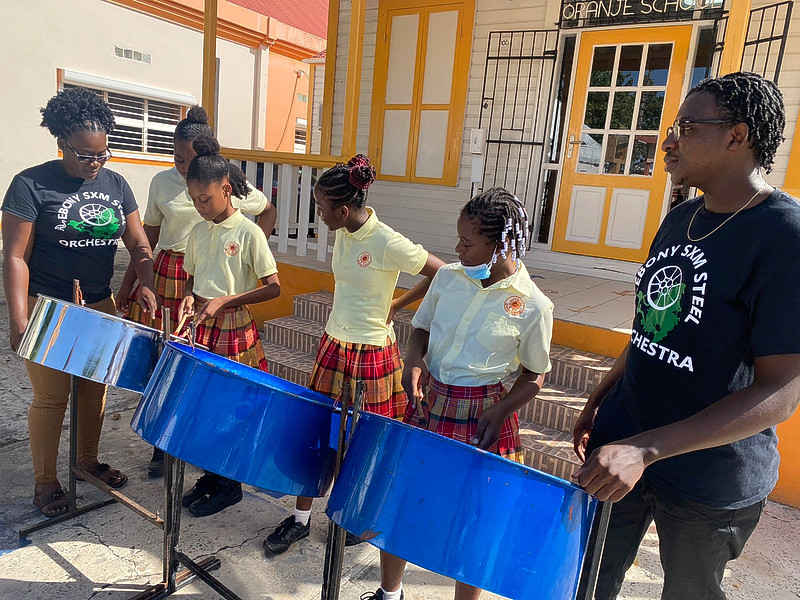 Dow's Musical Foundation after school steel pan project.