Governor Eugene Holiday (second from right) with the three Ministers Plenipotentiary, Rene Violenus of St. Maarten (second from left), Ady Thijsen of Aruba (right) and Carlson Manuel of Curaçao (left). (Nico van der Ven photo)
THE HAGUE--The Cabinet of the St. Maarten Minister Plenipotentiary in The Hague hosted a small gathering for departing St. Maarten Governor Eugene Holiday on Thursday evening.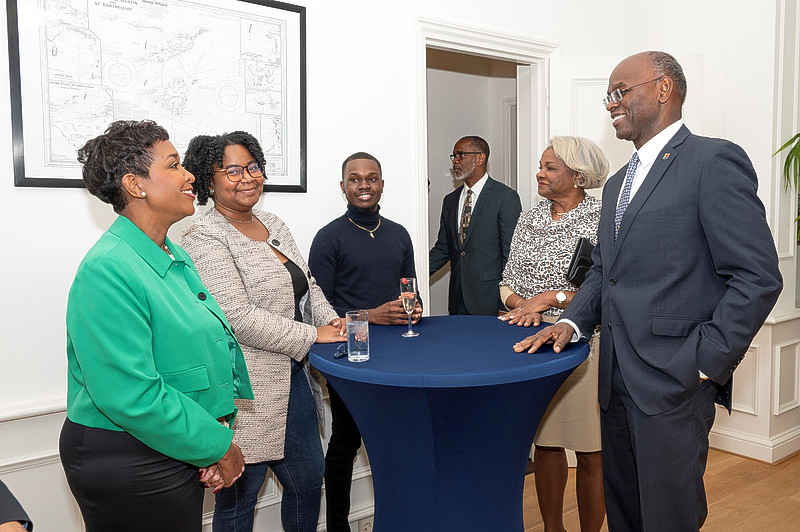 Governor Eugene Holiday (right) and his wife Marie-Louise (second from right) with some of the invited guests. (Nico van der Ven photo)
In the midst of a selected number of guests, Holiday and his wife Marie-Louise received a worthy thank you and praise from the staff of the St. Maarten House. Director of the Cabinet Carol Voges opened the event with a word of welcome, followed the St. Maarten Song, performed by Sharelyn Jones.
Minister Plenipotentiary Rene Violenus not only praised Holiday for the work he has done as Governor in the past 12 years, but also for his advisory role in the process of constitutional change which culminated in St. Maarten becoming a country in 2010, and before that as airport director.
"I want to thank you for your contribution and dedication as you helped guide St. Maarten through different phases in the constitutional process and development as a country. Your example has been a great one, also for me personally. I praise your open, honest and leadership skills," said Violenus.
Thanking the St. Maarten House for hosting the gathering, Holiday said he and his wife were very pleased to be there. He said that over the years, he was happy to have attended several events at the St. Maarten House where he met with many St. Maarteners living in the Netherlands.
In his short address, the Governor reflected shortly on his upcoming retirement next month after serving two tenures of six years. "As I leave office, people generally ask me two questions: what has it been like and what are my plans. The long answer will take me all night, so I'll stick to the short answer: it has been a true privilege to serve the people of St. Maarten."
Holiday said he always felt it was his duty and responsibility to help build St. Maarten. He said that a lot of work has been done in the process, but that there was still much to do amidst trying times where St. Maarten faces multiple challenges in the area like education, climate change, the social domain, financial and capacity constraints.
"It is all hands on-deck. I don't see my work end with my retirement as Governor. I'll continue to work for St. Maarten in other capacities. We will need to make full and effective use of our resources. You are part of our limited resources," said Holiday, addressing the guests at the St. Maarten House.
The Governor asked the guests to reflect on three questions. "What is your impression of St. Maarten? How is St. Maarten viewed in the Netherlands? How can you contribute to St. Maarten's further development? I believe you have the potential to help St. Maarten forward. I look forward to see your input in helping to continue build our sweet, sweet land," he said.
Spoken words artist Joshua Snijders of St. Maarten descent presented two of his poems, which were received with a loud applause. Violenus presented a small token of farewell, the book Album of Caribbean Poetry, compiled by Michael van Kemper and Bert Paasman, to Holiday.
Present at Thursday's event was a cross-section of St. Maarteners living in the Netherlands, as well as Curaçao Minister Plenipotentiary Carlson Manuel, Aruba Minister Plenipotentiary Ady Thijsen, St. Maarten Acting Minister Plenipotentiary Richard Panneflek, Member of the Second Chamber of the Dutch Parliament and former Minister Plenipotentiary Jorien Wuite, and St. Maarten's first Minister Plenipotentiary Mathias Voges.