From left: Sergeant Major J.G. De Bruin of the Royal Netherlands Marine Corps and Asha Stevens-Mohabier outside the Hillside gym.
Cu7bCAY HILL--Ahead of the upcoming hurricane season, the Royal Netherlands Marine Corps and the Royal Dutch Army will set up headquarters at the Asha Stevens Hillside Christian School campus in Cay Hill for the annual hurricane exercise HUREX.
Between May 25 and June 6, the marines and military, as per new operational orders, will simulate different scenarios before, during and after a category three storm or higher. This was shared in a press release by the school on Friday.
Approximately 260 participants from St. Maarten, Aruba, Curaçao and the Netherlands will participate in this two-week exercise that will provide them with the necessary training to carry out medical assistance to residents and to maintain law and order on the island in the event of a major hurricane.
A marine handing out food boxes to families in the aftermath of Hurricane Irma.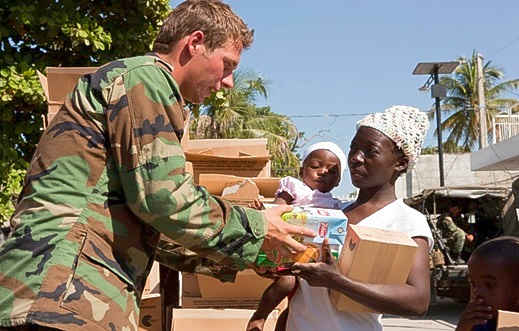 "We are very proud to host the HUREX once again ahead of hurricane season," said Asha Stevens‐Mohabier, Chief Executive Director of the school. "As we saw after Hurricane Irma in 2017, this country can be so defenceless and vulnerable. Without the assistance of the marines and military, I can only imagine the state the country would have been in," continued Stevens.
In the wake of Hurricane Irma, almost 500 marines and army members arrived on the island to assist the community with logistics, food, water and security issues, among other things.
During this period, marines, army members and their families stayed at the Asha Stevens campus in Cay Hill, where they slept in tents and on cots, in the classrooms, teachers' lounge, and other areas where they could still safely sleep. "Should another major hurricane or extreme weather occur in St. Maarten, the marines and military will have access to the entire Cay Hill campus as their headquarters," said the release.
During HUREX, the marines and military members will occupy the entire south-side parking lot of the Asha Stevens campus, closest to St. Maarten Medical Center, along with classroom spaces and the gymnasium. Parents need to be aware of the changed traffic situation, and the school is asking for their cooperation during drop‐off and pick‐up hours.
"I think I speak for the entire Dutch side of our island when I say that we are so thankful for all the emergency assistance the Royal Dutch Marines and Military have provided us with in the past, including the fast response last year when the coronavirus [COVID-19 – Ed.] arrived in St. Maarten. We are so fortunate to have such a wonderful working relationship with these important organisations, and we hope to continue these collaborative efforts for many years to come," concluded Stevens.