Fire truck at the gates of His Majesty's Prison responding to the Friday, January 13, 2023, incident.

ANGUILLA--The Royal Anguilla Police Force (RAPF) released a statement addressing two incidents which occurred at His Majesty's (HM's) Prison on Wednesday, January 11, 2023, at approximately 3:30pm, and again on Friday, January 13, 2023, at approximately 9:50am. The release provided brief details of both incidents and stated that an investigation of both incidents is being carried out to ensure appropriate action is being undertaken to address all concerns and matters. Visits to HM Prison have been suspended until further notice and will remain closed to the public until management is satisfied that these services can be resumed.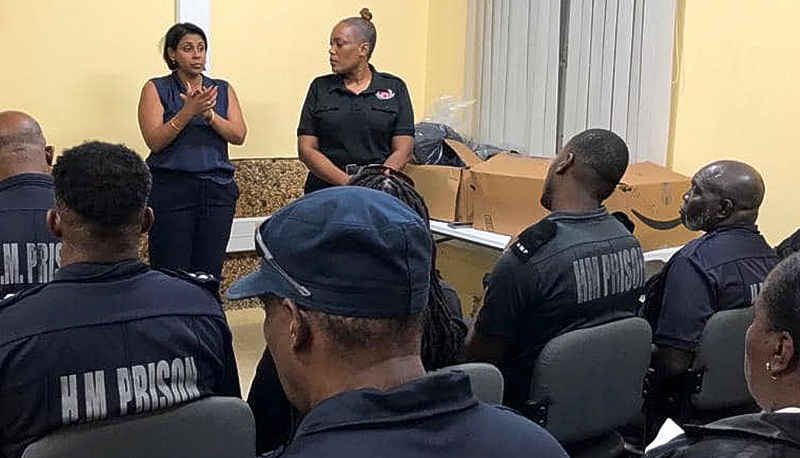 Governor Dileeni Daniel-Selvaratnam meeting with the prison response team.
On Wednesday, January 11, complaints concerning food preparation led to protests by inmates in one wing of the prison resulting in an injury to one member of the kitchen staff. A team of RAPF officers assisted prison officers in bringing the situation under control by 4:45pm.
On Friday, January 13, a fire alarm sounded in one wing and the Anguilla Fire & Rescue Service (AF&RS) responded and extinguished the localised fire. Inmates from that wing were evacuated and medical support and health checks were administered. There were no injuries resulting from the fire, and the prison population was accounted for, secured and in safe custody.
Following the incident, Governor Dileeni Daniel-Selvaratnam attended the HM Prison team debrief and expressed her gratitude for their responsive and collaborative efforts to resolve the two incidents. She also visited the prison inmates who were temporarily evacuated to the RAPF cells following the fire.