DP faction leader Adelka Spanner explaining the workings of the Island Council during the weekend retreat.

ST. EUSTATIUS--A weekend retreat at Gwendoline van Putten School for leading members of the Democratic Party (DP) of St. Eustatius also provided an opportunity for the party to present the existing Code of Ethics for elected and appointed officials.
Explained by DP advisor Ernie Simmons, the two-page code is quite specific about what can be said and done by elected and appointed party officials.
"Upon conviction, the elected official shall resign from office, even before pending appeals," Simmons insisted. "Furthermore, no elected or appointed official will participate when in a conflict of interest."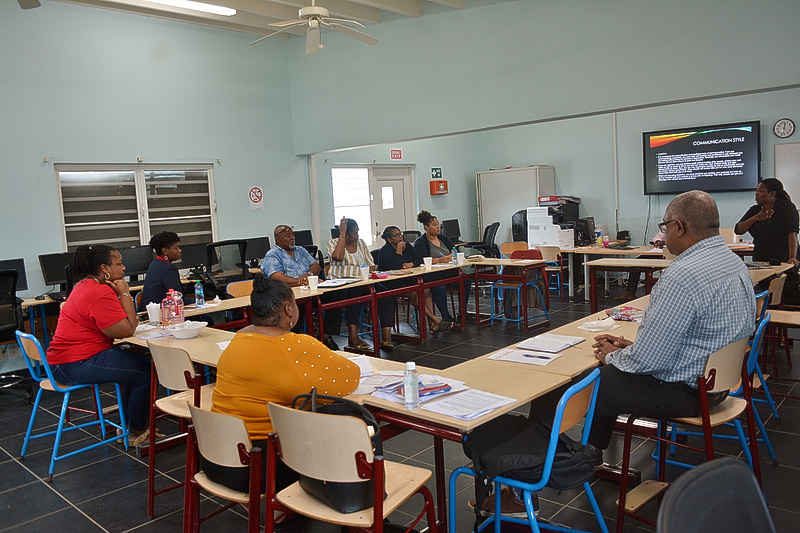 Sjahairah Fleming (right) speaking during the retreat.
Many Statians are not aware of the constitutional framework that defines the Island Council. DP faction leader Adelka Spanner gave insight into some of the inner workings of how the council operates once an election is declared.
"The seat you choose during the first session of the Island Council is the one you keep for the duration of your election term," Spanner told her colleagues.
"Know your audience" was the message delivered by Sjahairah Fleming. She outlined the difference between "diehard" and "undecided" voters. A lively and open exchange of views touched on the different types of voters in Statia.
The discussion also turned towards how messages could be shaped that would appeal to the emotional and rational sides of the party's audiences.
Central government taxes, struggles of single mothers and multicultural aspects of Statia's society prompted intense debate.
"Our communication style should be assertive," Fleming advised. "That way you create high esteem and confidence. People need clarity without any contradictions."