DATE ISSUED: Tuesday, June 29, 2021 @ 12:00 LST (16:00 UTC)
VALID UNTIL: Wednesday midday (12:00 LST) June 30, 2021
WEATHER:
This afternoon through Wednesday midday: Fair to partly cloudy and slightly hazy with brief showers possible.
Forecast High: 31°C / 88°F Forecast Low: 27°C / 81°F
Sunset Today: 6:51 P.M. Sunrise Tomorrow: 5:40 A.M.
SURFACE WINDS:
This afternoon through Wednesday midday: Easterly with a gentle to moderate breeze of 08 to 16 mph.
SYNOPSIS:
A stable and drier atmosphere along with varying concentrations of Saharan dust will restrict precipitation across the northeastern Caribbean during this forecast period.
Marine conditions will remain slight to moderate for the next 24 hours. Thereafter, a gradual deterioration is expected.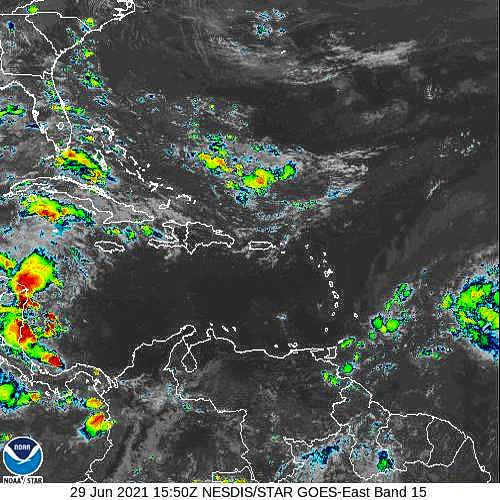 STATE OF THE SEA: Slight to Moderate WAVES/SWELLS: 4 to 6 feet
SPECIAL FEATURES: Disorganized showers and thunderstorms continue in association with a strong tropical wave located over the tropical Atlantic, about 850 miles east of the Lesser Antilles. Some slow development of this disturbance is possible later this week/weekend while the system moves westward to west-northwestward at 15 to 20 mph reaching our region by Wednesday night.
Shower activity associated with a 2nd tropical wave located over the Eastern Atlantic has become a little better organized since yesterday. Additional slow development of this system is possible during the next several days as it moves generally west-northwestward at about 20 mph.
THE METEOROLOGICAL DEPARTMENT OF ST. MAARTEN WILL CONTINUE TO MONITOR THESE SYSTEMS AND UPDATE THE PUBLIC ACCORDINGLY.
OUTLOOK through Thursday midday: Generally cloudy and windy with scattered showers and isolated thunderstorms.
FORECASTER: Pierre