DATE ISSUED: Tuesday, June 08, 2021 @ 12:00 LST (16:00 UTC)
VALID UNTIL: Wednesday midday (12:00 LST) June 09, 2021
WEATHER:
This afternoon through Wednesday midday: Generally cloudy, breezy and slightly hazy with a few brief showers.
Forecast High: 30°C / 86°F Forecast Low: 24°C / 75°F
Sunset Today: 6:47 P.M. Sunrise Tomorrow: 5:36 A.M.
SURFACE WINDS:
This afternoon through Wednesday midday: East northeast to easterly with a gentle to moderate breeze of 08 to 16 mph, and higher gusts.
SYNOPSIS:
A tight pressure gradient is maintaining brisk winds across the region. Meanwhile, an influx of Saharan dust moving into the region is restricting precipitation. Nevertheless, cloudy skies and a few brief showers are possible.
Moderate seas can be expected for the next few days. Small craft operators and sea bathers should exercise caution.
STATE OF THE SEA: Moderate WAVES/SWELLS: 5 to 7 feet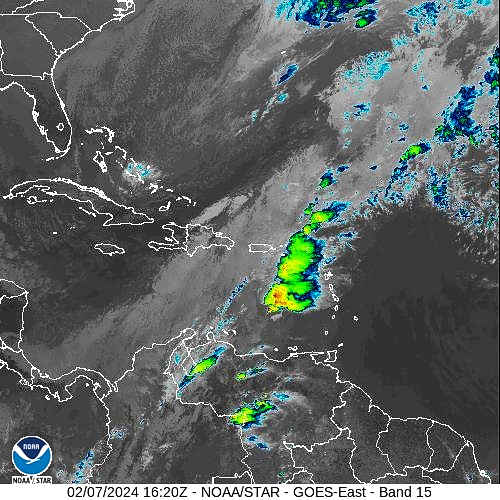 SPECIAL FEATURES: None.
OUTLOOK through Thursday morning: Partly cloudy, breezy, and hazy with isolated showers.
FORECASTER: Gordon