DATE ISSUED: Friday, April 23, 2021 @ 12:00 LST (16:00 UTC)
VALID UNTIL: Saturday midday (12:00 LST) April 24, 2021
WEATHER:
This afternoon: Partly cloudy to cloudy with some isolated showers possible.
Tonight through Saturday midday: Fair to partly cloudy.
Forecast High: 30°C / 86°F Forecast Low: 25°C / 77°F
Sunset Today: 6:31 P.M. Sunrise Tomorrow: 5:49 A.M.
SURFACE WINDS:
This afternoon through Saturday midday: Southeast to east with a light to moderate breeze of 06 to 14 mph.
SYNOPSIS:
The Atlantic high-pressure system will maintain light to moderate winds across the region. Patches of low-level clouds embedded in the wind flow may cause isolated showers this afternoon. After which, a drier air mass is expected to settle over the Leeward Islands, lowering the chances of shower activity.
Seas are expected to peak at 5 feet during the next few days.
STATE OF THE SEA: Slight to Moderate WAVES/SWELLS: 3 to 5 feet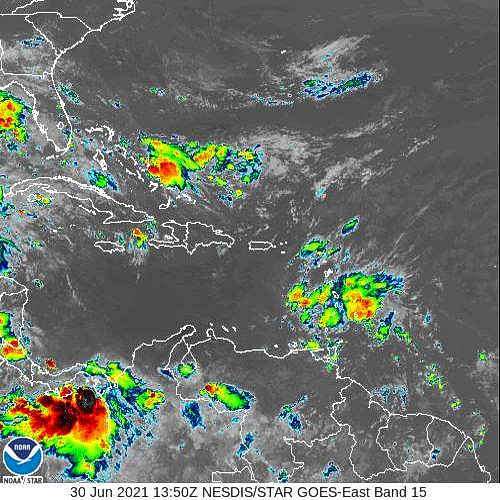 SPECIAL FEATURES: The Meteorological Department of St. Maarten will continue to monitor the situation with La Soufriere volcano and update the public accordingly.
OUTLOOK through Sunday midday: Fair to partly cloudy with a few brief showers possible.
FORECASTER: Pierre