DATE ISSUED: Friday, January 22, 2021 @ 12:00 LST (16:00 UTC)
VALID UNTIL: Saturday midday (12:00 LST) January 23, 2021
WEATHER:
This afternoon through Saturday midday: Generally fair to partly cloudy with a few brief showers.
Forecast High: 31°C / 88°F Forecast Low: 24°C / 75°F
Sunset Today: 6:01 P.M. Sunrise Tomorrow: 6:46 A.M.
SURFACE WINDS:
This afternoon through Saturday midday: Northeasterly to easterly with a light to gentle breeze of 04 to 12 mph, becoming lighter and variable at times.
SYNOPSIS:
Patches of low-level moisture transported across the region by the light to gentle wind flow will trigger a few brief showers across the local area. Otherwise, a dry and stable atmosphere will restrict significant precipitation.
Slight to moderate marine conditions are predicted for the next few days. However, long period northerly swells will begin to affect the Atlantic waters from Saturday morning. Small craft operators and sea bathers should exercise caution.
STATE OF THE SEA: Slight to moderate WAVES/SWELLS: 4 to 7 feet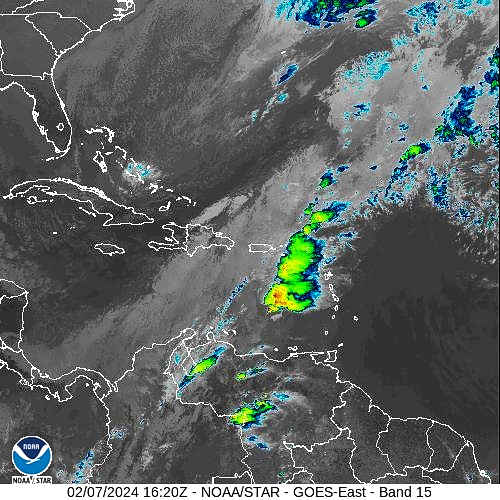 SPECIAL FEATURES: None.
OUTLOOK through Sunday midday: Fair to partly cloudy with brief showers.
FORECASTER: Gordon