St. Eustatius Autism Foundation members working on the awareness mural. T 2021 involved a total of 221 volunteers who participated in 32 projects all over St. Eustatius on Friday, May 28, and Saturday, May 29. The projects were funded by Oranje Fonds, while three organisations carried out activities without funding.
The "Writing is on the Wall" project saw St. Eustatius Autism Foundation volunteers broadcast their message through the creation of an awareness mural on the walls of Earl Merkman Sports Complex.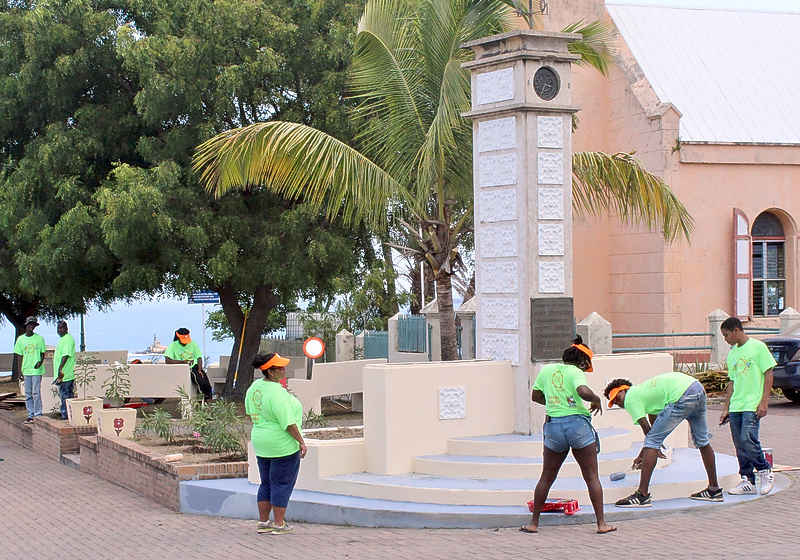 St. Eustatius Tourism Development Foundation and New Challenges Foundation volunteers painting the monument at Old Market Square.ST. EUSTATIUS--Statia DOE
St. Eustatius Tourism Development Foundation (STDF) teamed up with New Challenges Foundation and senior citizen James Brice to beautify Old Market Square, also known as Jaycees Park, in giving the area a fresh coat of paint. In the early morning hours Raphael "Charlie" Lopes and Eddy Spanner dug holes in the area, where a variety of local plants that are unappetising to roaming animals were planted later. The volunteers worked from early morning into the mid-afternoon. They also painted the monument.
Diker Sports Training Academy Foundation held an educational historical walking tour for primary school pupils and Gwendoline van Putten secondary school students on Friday. Monuments Director and St. Eustatius Historical Foundation secretary Walter Hellebrand took the children on the tour during which they visited Fort Oranje, Hill Head, the Government Guest Yard, the Dutch Reformed Church, the slave market, the Jewish Synagogue, the remains of Godet House and other historical landmarks.
The tour ended at St. Eustatius Historical Foundation's Simon Doncker Museum and included a visit to the hurricane shelter in the Johnson Compound.
Statia DOET 2021 featured a variety of projects that highlighted the spirit of volunteering and giving back to the community. The kingdom-wide project was originally scheduled to be held a few months ago, but the dates had to be changed due to the COVID-19 pandemic.
Statia DOET committee member Maxine Spanner-Suares thanked all the project leaders and volunteers for making this year's Statia DOET "a great success."