Loïc Artsen (right) giving dignitaries a tour of the mint greenhouse. (Robert Luckock photos).
MARIGOT--The Farm4You aquaponics project had its grand opening and tour in Agrément on Sunday, giving attendees an insight into creating an energy-efficient, natural, healthy and sustainable food source for the island.
Elected officials present included President of the Collectivité Louis Mussington, First Vice President Alain Richardson, Third Vice President Dominique Louisy and Territorial Councillor Daniel Arnel.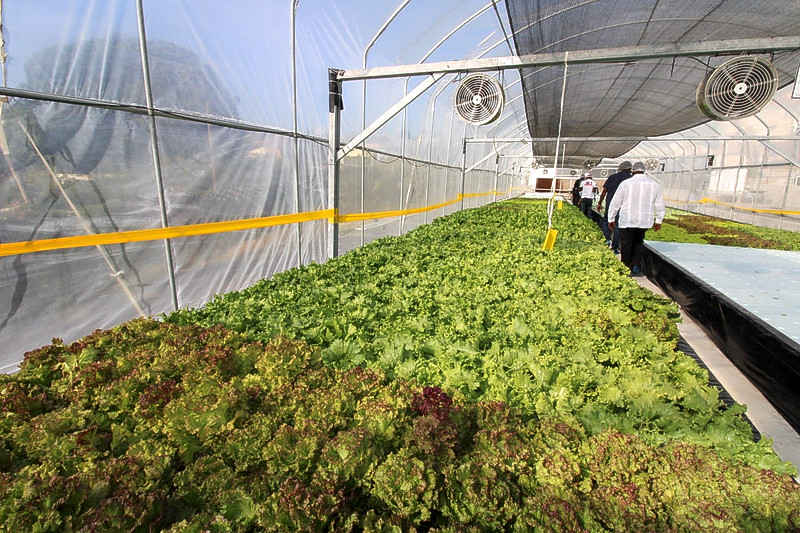 The lettuce greenhouse.
From the Dutch side, Acting Chief of Staff Lyndon Lewis to Minister of Tourism, Economic Affairs, Transport and Telecommunication (TEATT), Arthur Lambriex, was present with Deputy Speaker of the House Neville Smith, from the British Virgin Islands.
Préfet Vincent Berton was unable to attend the opening.
A presentation was first given by Loïc Artsen, one of the four entrepreneurs behind the project. He noted that the whole facility is powered by solar energy.
"The idea was to farm our own food source and our decision was reinforced after Hurricane Irma seeing the lack of resources, and then came COVID-19. We were determined to come up with a healthier way of living with a farm-to-table concept," he explained.
"After lots of research we chose soilless farming. Traditional farming is no longer sustainable as it requires lots of water and space. Living on an island, vast open spaces are not available, therefore making use of smaller spaces is more efficient."
Artsen said aquaponics, a mix of aquaculture and hydroponics, is efficient, it's the cleanest way to grow and it's sustainable.
"With aquaponics you do not need fertilisers to grow healthy plants. We feed the tilapia fish nutritious food that they convert into organic waste and our proprietary system pumps the wastewater out of their tanks, where it is filtered and refined before being pumped into our greenhouse, where the plants absorb the nutrients they need to grow.
"In the process, the plants filter the water to the point where it's so clean we can pump it directly back into the fish tanks, where the 100% organic process (cycle) starts all over again." The tour included visits to the fish tank, the two main greenhouses, one solely for producing mint and basil and the other for producing four types of lettuce: romaine, red tip leaf lettuce, oak leaf and green leaf lettuce.
The lettuce greenhouse currently produces 1,900 heads of lettuce per week but Artsen said the objective is to expand with two more greenhouses to increase production to 7,000 heads per week.
He said there are no plans currently to sell the tilapia fish here (the huge tank contained 12,000 fish), however, discussions are ongoing with a partner in St. Kitts to ship them out when they get to a certain size.
President Mussington praised the initiative of the team behind the project. He disclosed on his return from the regional cooperation conference in Guadeloupe that the European Union has reserved a budget of 67 million euros for the Caribbean islands for various sustainable programmes and Farm4You would be eligible to benefit from those funds.
"We would have to accompany you for that as we are the governing body that will embrace the project and sell it to the EU via the INTERREG programme," he said. "But you have come this far already on your own and have proved that you are sincere and dedicated to this venture."
Adding an historical footnote, Mussington recalled in the old days, St. Martiners were always productive and self-sufficient in terms of farming and growing crops for food sources. It was only at the time of the first world war when 250 young men were drafted to fight overseas that agriculture on the island fell to an all-time low.