Pupils of Sr. Regina School with story reader Doris Dedier (left)
SIMPSON BAY--Beyond Kultura Events Foundation (BKEF) recently closed off its story reading programme at Sister Regina Primary School in Simpson Bay. For ten weeks, children of groups 5 cycle 2 and 7 cycle 2, were fully engaged in comprehensive story reading by BKEF's certified reader Doris Dedier.
Per group session, Dedier read an average of two stories from author Loekie Morales' children's book Zonnesproetjes – Tropisch Nestje in the Dutch language.
Last year, the English translation of these books, The Freckled Bunch – Tropical Shelter, was donated to all primary schools of St. Maarten, Saba and St. Eustatius.
With this story reading programme, pupils of Sister Regina School could immerse themselves into the lives of the Moral children, living on the outskirts of Willemstad. The stories about these siblings are based on real life.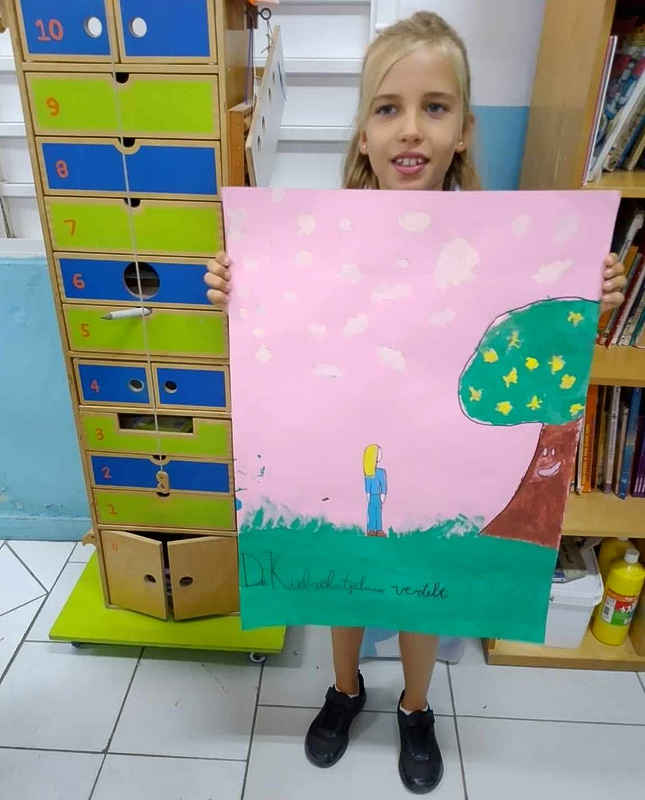 A pupil proudly displaying her artwork.
The book contains 40 short story chapters about the life of a family in Curaçao from a sociological, economic and historic perspective. The author did not shy away from "heavy" themes, such as the collapse of the Juliana Bridge in Willemstad, the revolt of May 30, 1969, and a mother's death. However, in between these hardships, there are some funny and cosy themes as well.
This wide array of themes is important to trigger concentration and listening skills among the youth, BKEF treasurer Rita Aikman believes.
"It is really needed to read along with the children. They experience the story together and can relate to the feelings they get while listening. They can express their intake of feelings to what happens in the story. It also expands their knowledge of language and words. I noticed, every week again, the eagerness in them when I come to read with them. That makes me want to keep visiting them," Dedier said.
The last session was an "Exhibition Session", whereby the pupils could take their preferred chapter story and express their intake on it through poems, a skit, storytelling, paintings and/or a piece of art.
"It was amazing to see their cooperation amongst one another and observe their positive feedback. The stories were taken to a different level and a feeling of a close-knit family, just like the Moral children were," said Dedier.