Victor Mooney and his wife Su Ping share a slice of Junior's Cheesecake at Sonesta Maho Beach Resort, Casino, and Spa on Saturday. Mooney begins a 14-day visit in the Caribbean to deliver tennis gear for the youth. He also announced his memoir of rowing across the Atlantic Ocean.
PHILIPSBURG--AIDS awareness activist of Queens, New York, Victor Mooney, is currently on-island for a 14-day visit delivering tennis equipment to children in St. Maarten, Saint-Martin and Anguilla that he has collected from manufacturers.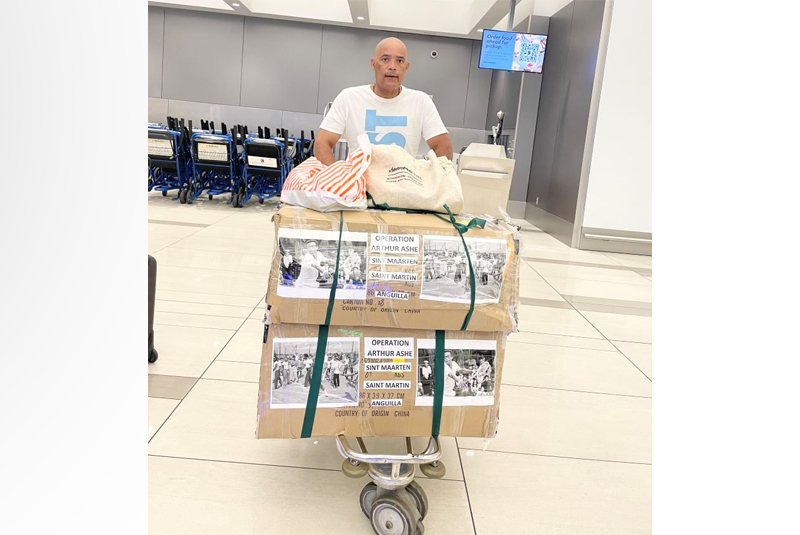 Victor Mooney departs La Guardia Airport August 19 for St. Maarten where he will be delivering tennis gear for the youth.
In 2021, during the COVID-19 pandemic that postponed Arthur Ashe Day at the US Open Tennis Championship, Mooney launched "Operation Arthur Ashe" to share tennis and education with students in the United States. Ashe, who was the first African American to win a Grand Slam, died from AIDS complications in 1993.
Among other things, Mooney announced his memoir in commemoration of the 10th anniversary of reaching St. Martin by rowboat in 2014 on his fourth try from Masapalomas, Gran Canaria, in memory of his brother who died of AIDS.
Mooney was rescued by French-side sea rescue service SNSM off St. Martin in a weakened state after running out of food and was briefly hospitalised before beginning his recovery from an 80-pound weight loss at Sonesta Maho Beach Resort, Casino, and Spa while his rowboat Spirit of Malabo was being repaired from a shark attack.
Following his full recovery and repairs to the rowboat, Mooney continued his voyage, ending his row at New York's Brooklyn Bridge on November 29, 2015.