All the winners and basketball legends on stage pose with their awards with Minister Rodolphe Samuel. Don Hughes stands in the foreground due to mobility issues. (Robert Luckock photo)
PHILIPSBURG—Bodybuilder Maudienne Profas and baseball player Denzel Richardson were named Pro Athletes of the Year at the conclusion of the sixth annual Brown Pelican Awards on Sunday night. The Pro category was a new addition this year to recognise professional athletes on the island.
Richardson gave an emotional and inspirational acceptance speech, describing himself as a "late bloomer" despite signing on as a pro with the Colorado Rockies at 17. He described his life journey as tough, dealing with anxiety, depression, insomnia, and he even considered suicide. He lost both his parents; his mother at 23 and his father at 25.
"I'm still grateful for all the struggles and pain I went through because it has shaped the person I am today", he said. "Playing in the Netherlands is where I learnt to fly. I have received many awards but I don't take it for granted. I've found my true purpose in life and that is to give back because I know how it feels to be at your lowest ebb."
He disclosed that four days ago he signed on for a new professional contract, six years after he lost his last pro contract.
Maudienne Profas said she was completely taken by surprise to be awarded the honour and thanked all her supporters and coaches.
Other winners on the night included Tatiana Illis (Carib Swim Team) for Best Female Athlete of the Year, Nathalie Johnson (Volleyball) for Best Female Athlete of the Year U18, and Chardea Richardson (Athletics, Dynamics Club) for Best Female Athlete of the year U13.
Best Adult Male Athlete of the Year went to Keacy Carty (cricket) who was absent as he was playing in a cricket match against Barbados in Antigua, his award accepted by his father. Best Male Athlete U13 went to Carlos Brison (Athletics, Dynamics Club) and Best Male Athlete U18 was awarded to Nathaniel Edwards (cricket).
The Men's Senior National Volleyball Team won the Best Overall Team Category while Best Sports Organisation went to the St. Maarten Football Federation. Best Male Coach went to Parsram Singh (cricket) and Best Female Coach to Mellica Timothy (Netball). NAGICO was named Best Sponsor.
Basketball was the theme of the awards ceremony this year, and several living legends were honoured. They included Don Hughes, Milton Bobby Ottley, Edwin Hodge, Joseph Marty Williams, Joseph Holaman, Joanice David "Dukie" Richardson, Cedric Lambert, Kervin Gumbs, David Brooks, and Lorenzo Richardson.
Short interview video clips conducted by Claret Connor saw the legends describe their careers and memorable battles with their opponents.
Don Hughes appealed to Minister of Education, Culture, Youth and Sports (ECYS) Rodolphe Samuel to put more into basketball. "We are tired of just participating, we need to be competing at a much higher level and we can only do that with the help of your government," he said.
Government dignitaries, parents and nominees attended the ceremony. Closing remarks were given by Department Head of Sports Jonelle Richardson and Director of the National Sports Institute (NSI), Maikel Cornet. Proceeds from the evening go to developing youth basketball.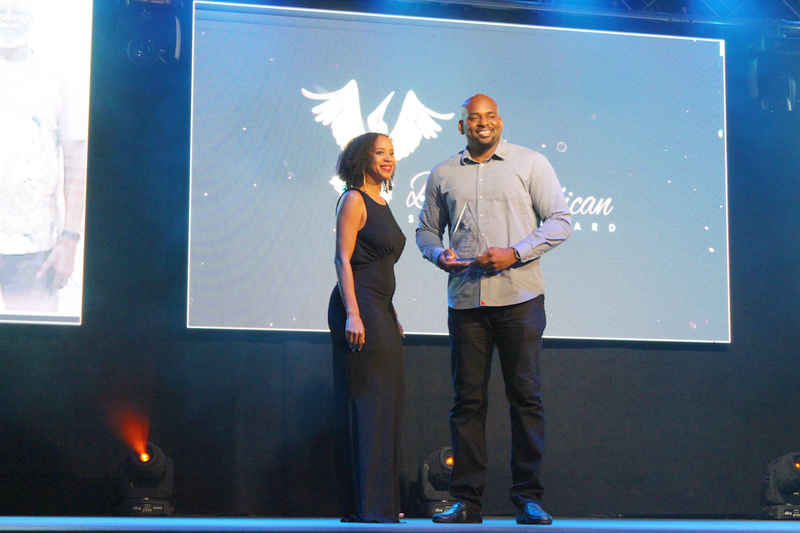 Acting Minister of Tourism, Economic Affairs, Transport and Telecommunications Omar Ottley accepted the award on behalf of his father basketball legend Bobby Ottley who could not be present due to illness. (Robert Luckock photo)