From left: Panellists Dr. Carmen Marques, Tatiana Arrindell, Elco Rosario, Raymond Jessurun, Dr. Zuleima Violenus-Solomon.
POND ISLAND–University of St. Martin (USM) partnered with St. Maarten Alzheimer's Foundation last week to host the first lecture and panel on reducing the risk of developing dementia.
The event was attended by many professional caregivers who gathered to learn valuable information and take steps to support brain health and reduce the risk of dementia.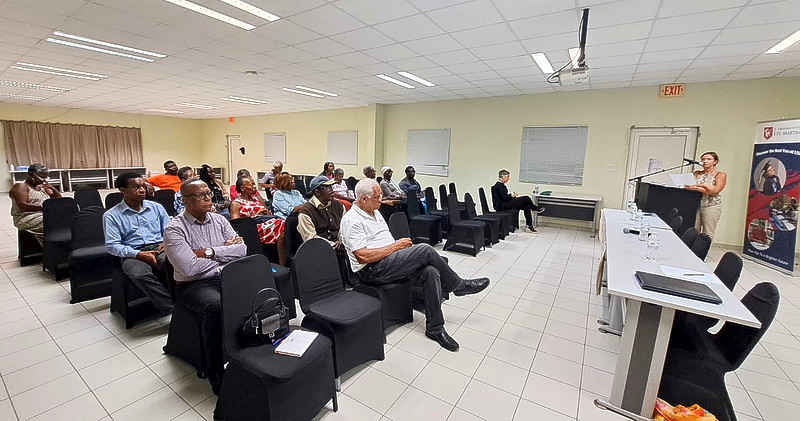 Attendees at the panel discussion.
The evening featured a presentation by neurologist Dr. Carmen Marques of St. Maarten Medical Center (SMMC) on the latest developments in diagnosing and treating dementia. Attendees were also given the opportunity to ask questions to the panellists, which included Dr. Marques, family caregiver of her mother with dementia Tatiana Arrindell; person living with dementia Elco Rosario; St. Maarten Alzheimer Foundation board member Raymond Jessurun; and neuropsychologist Dr. Zuleima Violenus-Solomon of White and Yellow Cross Foundation (WYCCF).
The panel was moderated by Dhanishka Pujoha, a St. Maarten graduate in neuropsychology.
Due to the success of the event, USM will be hosting a second evening on dementia and Alzheimer's in room 202 from 7:00pm to 9:00pm Tuesday, September 19. This event is open to the general public and aims to address questions such as how to live well with dementia and how to reduce the risk of developing it. Volunteers from St. Maarten Alzheimer Foundation, including Dr. Marques and Pujoha, will be on hand to provide tips and advice.
Everyone is invited to attend and bring a loved one or friend. For more information or interview requests, contact Jessurun via telephone 721-522-0925 or +5-999-561-5035 (WhatsApp), or St. Maarten Alzheimer's Foundation's email
This email address is being protected from spambots. You need JavaScript enabled to view it.