Science Fair winners with their awards and trophies.
BELAIR--St. Maarten Science Fair Foundation (SMSFF) held its Science Fair 2023 Awards Ceremony at the Belair Community Center on Saturday, April 1.
The event was attended by a host of dignitaries, including His Excellency Governor of St. Maarten Ajamu Baly; President of Parliament Sidharth "Cookie" Bijljani; Minister of Education, Culture, Youth and Sport (ECYS) Rodolphe Samuel; Minister of Public Housing, Spatial Planning, Environment and Infrastructure VROMI Egbert Doran; and Minister of Finance Ardwell Irion.
The participating schools were Learning Unlimited, Methodist Agogic Center – Comprehensive Secondary Education (MAC-CSE), Milton Peters College (MPC) HAVO/VWO, MPC PKL/PBL, and MPC TKL.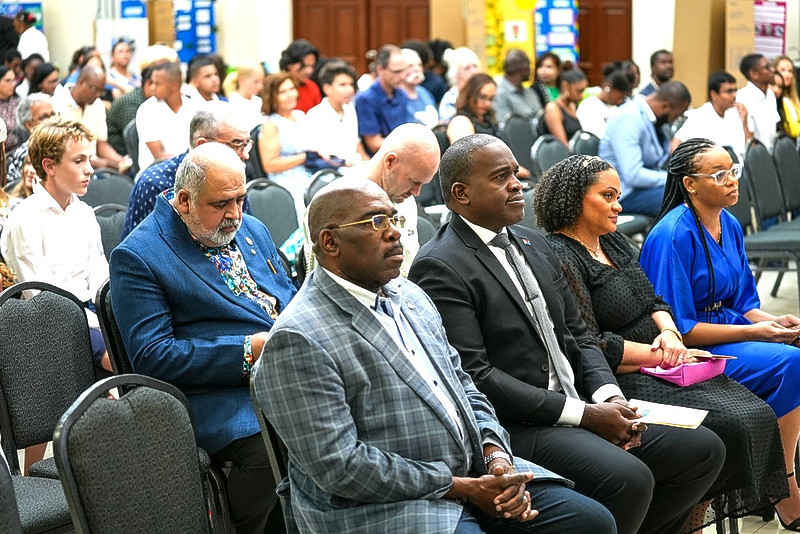 Some of the dignitaries in attendance.
All schools produced winning projects, with Learning Unlimited winning the most first prizes. "The evening was a spectacular showcase of the innovative and creative abilities of our students," said SMSFF.
Keynote speaker Damien Schmidt delivered an address that encouraged the students to continue to pursue excellence in science and technology. Benjamin Bell's performance of the St. Maarten song was a fitting tribute to the island's talent and diversity.
The Science Fair Awards Ceremony is an annual event that recognises aspiring young scientists' and engineers' achievements. It provides a platform for them to showcase their skills and creativity, and encourages them to pursue careers in science and technology.
Samuel expressed his pleasure with the creativity and quality of projects displayed. He commended the schools and the students for their dedication and hard work.
Science Fair Foundation President Rolinda Carter said, "The Science Fair is made possible solely through the sponsorship of businesses in our community that are committed to the development of our youth, and we are grateful for their ongoing support. The award ceremony was a resounding success and we look forward to even greater achievements from our young scientists and engineers in the years to come."