AIRPORT--Royal Schiphol Group, which is a key player in the reconstruction of Princess Juliana International Airport (PJIA), expressed its "profound concerns" about the airport's corporate governance shortly after the firing of PJIA operating company PJIAE chief executive officer (CEO) Brian Mingo last month.
This is evident in a letter on April 9 from Schiphol International director Kjell Kloosterziel to Prime Minister Silver Jacobs and Minister of Tourism, Economic Affairs, Transport and Telecommunication (TEATT) Ludmila de Weever. The letter – which has only now been leaked to the media – came only two days after PJIA holding company PJIAH dismissed Mingo in a shareholders meeting.
"Through this letter Royal Schiphol Group expresses its profound concerns about the governance of the Princess Juliana International Airport and specifically the holding PJIAH," it was stated in the letter. "We have been informed by our staff supporting [PJIA – Ed.] that they and other stakeholders have very serious concerns on the governance of the airport and the process that has resulted in the termination of the CEO."
Prime Minister Silveria Jacobs told reporters a week after the dismissal that the Council of Ministers will look into whether proper procedures were followed with Mingo's dismissal, as per the Corporate Governance Code. She has also reiterated that government remains committed to the reconstruction funding via the World Bank-administered St. Maarten Trust Fund. Royal Schiphol Group support was a condition for this funding.
Government has yet to comment publicly on whether the correct procedures were followed.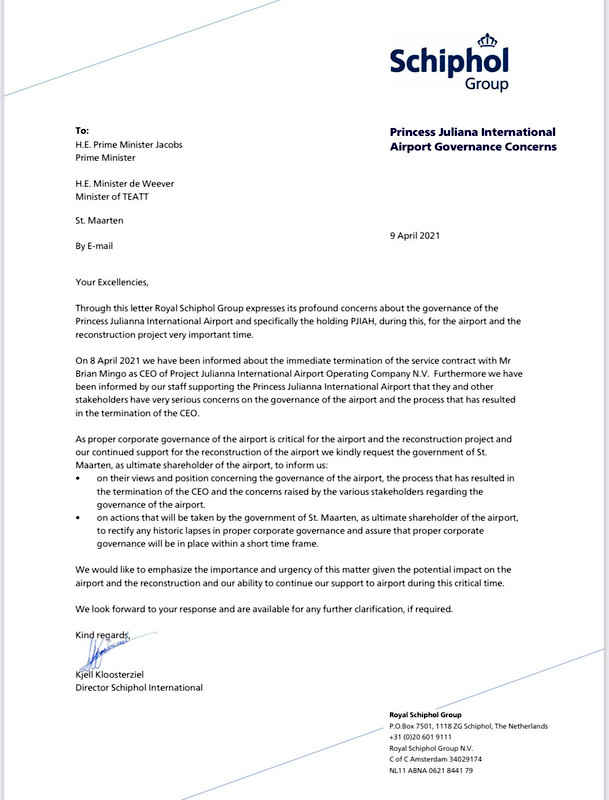 In the letter, Kloosterziel requested government for its "views and position" on "the process that has resulted in the termination of the CEO and the concerns raised by various stakeholders regarding the governance of the airport" and on actions that government will take to "rectify any historic lapses in proper corporate governance and assure that proper corporate governance will be in place within a short time frame."
"We would like to emphasise the importance and urgency of this matter given the potential impact on the airport and the reconstruction and our ability to continue to support the airport during this critical time," said Kloosterziel.
On April 8 – the day before the letter – the supervisory and management boards of PJIAH met with members of the Ministry of Home Affairs and Kingdom Relations BZK to negotiate the Cooperation Agreement between PJIAH, PJIAE, BZK and Royal Schiphol Group, which expires on August 1.