DATE ISSUED: Sunday, August 16, 2020 @ 12:00 LST (16:00 UTC)   
VALID UNTIL: Monday midday (12:00 LST) August 17, 2020    
WEATHER:      
This afternoon through Monday midday: Partly cloudy with isolated showers.
   
Forecast High: 32°C / 90°F             Forecast Low: 27°C / 81°F   
Sunset Today: 6:38 P.M.                 Sunrise Tomorrow: 5:55 A.M.    
SURFACE WINDS: 
This afternoon through Monday midday: Southeasterly to easterly with a gentle to moderate breeze of 10 to 17 mph.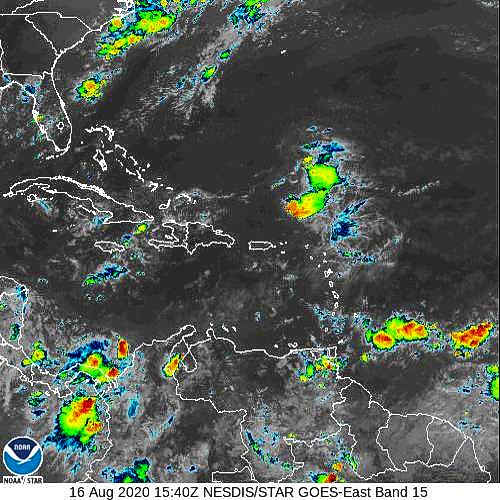 SYNOPSIS:     
Moisture and instability trailing Tropical Depression Josephine will account for isolated showers across the local area. Meanwhile, the Atlantic high pressure system will maintain gentle to moderate winds.  
Seas will remain slight to moderate during the next few days.  
STATE OF THE SEA:  Slight to moderate       WAVES/SWELLS: 4 to 6 feet   
SPECIAL FEATURE:   
At 11:00 am, the center of Tropical Depression Josephine was located about 200 miles north-northwest of St. Maarten and moving toward west-northwest (away from St. Maarten) near 13 mph. Maximum sustained winds have decreased to 35 mph with higher gusts and the system is expected to become a remnant low or dissipate by Monday.  
Josephine poses no direct threat to St. Maarten.  
A tropical wave located about 800 miles east of the Windward Islands is moving westward near 20 mph and producing a small area of disorganized showers and thunderstorms. As this system moves toward the Windward and southern Leeward Islands today and Monday, development will be limited due to its speed.    
* Formation chance through 48 hours...low...10 percent.  
* Formation chance through 5 days...low...30 percent.  
THE METEOROLOGICAL DEPARTMENT OF ST. MAARTEN WILL CONTINUE TO MONITOR THESE SYSTEMS AND UPDATE THE PUBLIC.   
OUTLOOK through Tuesday midday: Partly cloudy and breezy with a local shower possible.  
FORECASTER: Albert