DATE ISSUED: Monday 20th November 2023 @ 12:00 LST (16:00 UTC)
VALID UNTIL: Tuesday midday (12:00 LST) 21st November 2023
…A HIGH SURF ADVISORY REMAINS IN EFFECT FORST. MAARTEN UNTIL 6PM MONDAY NOVEMBER 20, 2023…
WEATHER:
This Afternoon: Mostly cloudy with light haze.
Tonight, through Tuesday midday: Cloudy with isolated showers and possible thunderstorms.
Forecast High: 31°C / 88°F Forecast Low: 27°C / 81°F
Sunset Today: 5:35 P.M. Sunrise Tomorrow: 6:21 A.M.
SURFACE WINDS:
Today through Tuesday morning: Southeasterly to southerly with a light to gentle breeze of 4 to 12 mph.
SYNOPSIS:
Moisture and instability associated with a frontal boundary and an area of low-pressure is approaching the region. Consequently, showers and isolated thunderstorms are possible later tonight into Tuesday over the local area.
Seas will continue to subside during this forecast period however, small craft operators and swimmers are advised to remain vigilant and exercise caution.
STATE OF THE SEA: Slight to moderate WAVES/SWELLS: 4 to 6 feet
SPECIAL FEATURE: None.
The Meteorological Department of St. Maarten will continue to monitor the Atlantic and update the public accordingly.
OUTLOOK through Wednesday midday: Partly cloudy to cloudy with brief showers.
FORECASTER: Leblanc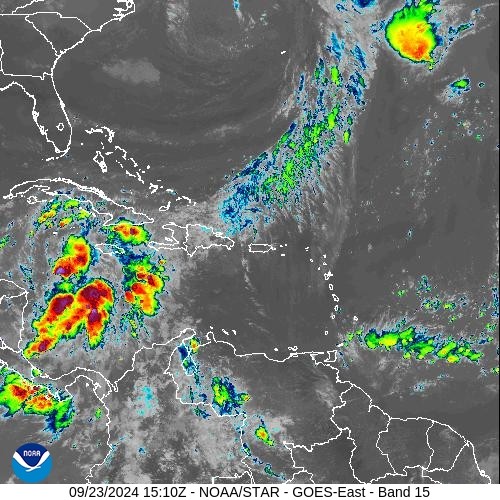 3-DAY FORECAST
DAY

Monday

Tuesday

Wednesday

WEATHER

Cloudy/

Light Haze

Partly Cloudy/Cloudy

Isolated Showers

Partly Cloudy

Isolated Showers Possible

HIGH TEMP

31°C / 88°F

31°C / 88°F

31°C / 88°F

LOW TEMP

27°C / 81°F

27°C / 81°F

27°C / 81°F

SUNRISE

06:21 AM

06:21 AM

06:22 AM

SUNSET

05:35 PM

05:35 PM

05:35 PM