DATE ISSUED: Friday 15th September 2023 @ 12:00 LST (16:00 UTC)
VALID UNTIL: Saturday midday (12:00 LST) 16th September 2023
WEATHER:
This Afternoon through Saturday midday: Fair to Partly cloudy with a passing shower possible.
Forecast High: 33°C / 91°F Forecast Low: 29°C / 84°F
Sunset Today: 6:14 P.M. Sunrise Tomorrow: 6:01 A.M.
SURFACE WINDS:
This Afternoon through Saturday midday: East to southeast with a light to gentle breeze of 04 to 12 mph.
SYNOPSIS:
The Atlantic high-pressure system continues to dominate conditions across the region, with a weakening trend over the next 24 hours. A light easterly to southeasterly wind flow will maintain warm conditions over the local area.
Sea conditions will peak near 5 feet for the next few days.
STATE OF THE SEA: Slight to moderate WAVES/SWELLS: 3 to 5 feet
SPECIAL FEATURE:
At 11am the area of low pressure located over the central Atlantic became Tropical Depression 15. The depression is forecast to become a tropical storm later today and a hurricane by Sunday. However, this system poses no direct threat to St. Maarten as it continues to move northwesterly at about 12mph.
The Meteorological Department St. Maarten will continue to monitor the progress of this system and update the public accordingly.
OUTLOOK through Sunday midday: Fair to partly cloudy with a few brief showers possible.
FORECASTER: Leblanc/Craig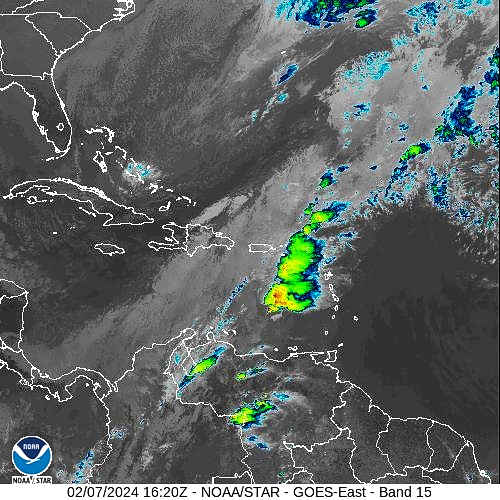 3-DAY FORECAST
DAY

Friday

Saturday

Sunday

WEATHER

Fair/Partly Cloudy

Partly Cloudy,

Few Brief showers Possible

Fair/Partly Cloudy

HIGH TEMP

33°C / 91°F

33°C / 91°F

33°C / 91°F

LOW TEMP

29°C / 84°F

28°C / 82°F

28°C / 82°F

SUNRISE

06:00 AM

06:00 AM

06:01 AM

SUNSET

06:15 PM

06:14 PM

06:13 PM