Meteorological Department of St. Maarten
Modesta Drive #12, Simpson Bay
Tel #: (1-721) 545-4226
E-Mail: This email address is being protected from spambots. You need JavaScript enabled to view it.
DATE ISSUED: Monday, March 20, 2023 @ 12:00 LST (16:00 UTC)
VALID UNTIL: Tuesday Midday (12:00 LST) March 21, 2023
…THE HIGH SURF ADVISORY IS DISCONTINUED…
…A SMALL CRAFT ADVISORY REMAINS IN EFFECT FOR ST. MAARTEN UNTIL 6PM TUESDAY, 21 MARCH, 2023…
WEATHER:
This afternoon through Tuesday midday: Partly cloudy and breezy, becoming cloudy at times with a few passing showers.
Forecast High: 29°C / 84°F Forecast Low: 23°C / 73°F
Sunset Today: 6:23 P.M. Sunrise Tomorrow: 6:16 A.M.
SURFACE WINDS:
This afternoon through Tuesday midday: Northeasterly to easterly with a gentle to moderate breeze of 08 to 16 mph and higher gusts.
SYNOPSIS:
Patches of low-level moisture transported by the brisk wind flow could trigger a few brief showers across the local area.
Long-period swells are subsiding, and as a result, the high surf advisory has been discontinued. Nevertheless, small-craft operators and swimmers should continue to exercise caution as the small craft advisory remains in effect.
STATE OF THE SEA: Moderate to rough WAVES/SWELLS: 6 to 8 feet
SPECIAL FEATURE: None.
OUTLOOK through Wednesday midday: Partly cloudy with a brief shower possible.
FORECASTER: Gordon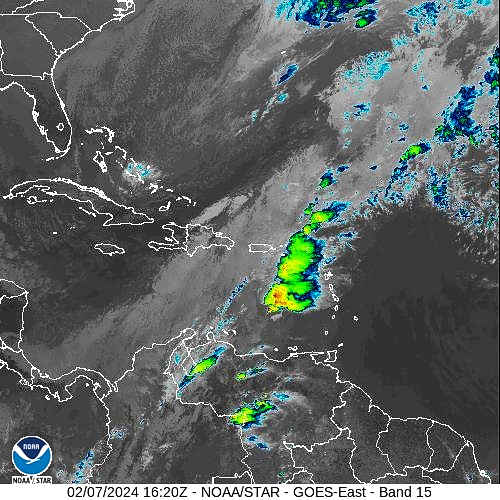 3-DAY FORECAST
DAY

Monday

Tuesday

Wednesday

WEATHER

Partly Cloudy/Cloudy, Breezy,

Brief Showers possible

Partly Cloudy,

Brief Showers possible

Partly Cloudy,

Brief Shower possible

HIGH TEMP

29°C / 84°F

30°C / 86°F

30°C / 86°F

LOW TEMP

23°C / 73°F

24°C / 75°F

24°C / 75°F

SUNRISE

06:17 AM

06:16 AM

06:15 AM

SUNSET

06:23 PM

06:24 PM

06:24 PM