DATE ISSUED: Friday, September 02, 2022 @ 12:00 LST (16:00 UTC)
VALID UNTIL: Saturday midday (12:00 LST) September 03, 2022
WEATHER:
This afternoon through Saturday midday: Partly cloudy to cloudy with isolated showers and a chance of isolated thunderstorms.
Forecast High: 32°C / 90°F
Forecast Low: 26°C / 79°F
Sunset Today: 6:25 P.M.
Sunrise Tomorrow: 5:58 A.M.
SURFACE WINDS:
This afternoon through Saturday midday: Northeasterly to southwesterly with a light to moderate breeze of 05 to 13 mph, becoming calm and variable at times.
SYNOPSIS:
Moisture and instability associated with a passing low pressure area will cause cloudiness, showers and a chance of isolated thunderstorms during this forecast period. Residents and users of areas prone to flooding are advised to be vigilant as some showers may be heavy and can lead to street-flooding. Meanwhile, a weak surface pressure gradient will maintain light to moderate winds across the region.
Seas are expected to peak at 5 feet during the next few days.
STATE OF THE SEA: Slight to moderate
WAVES/SWELLS: 3 to 5 feet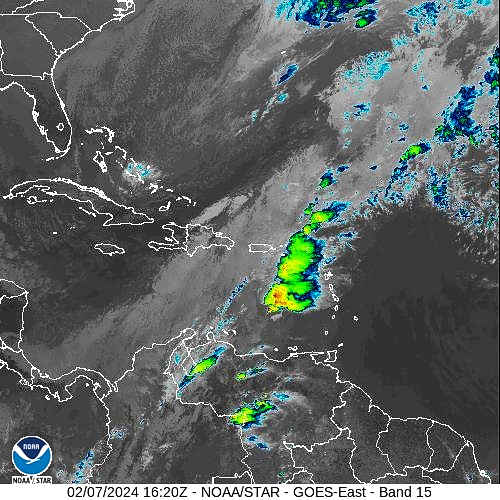 SPECIAL FEATURES: Showers and thunderstorms associated with a broad area of low pressure currently affecting the Northeastern Caribbean have increased slightly. Although environmental conditions remain only marginally conducive, this system has a high (70%) formation chance through the next five days, as it moves slowly west-northwestward near the local region.
The Meteorological Department of St. Maarten will continue to monitor this system and update the public accordingly.
OUTLOOK through Sunday midday: Partly cloudy with isolated showers possible.
FORECASTER: Connor
3-DAY FORECAST
DAY

Friday

Saturday

Sunday

WEATHER

Partly Cloudy/Cloudy,

Isolated Showers, possible Thunderstorms

Partly Cloudy/Cloudy,

Isolated Showers

Partly Cloudy,

Isolated Showers possible

HIGH TEMP

32°C / 90°F

32°C / 90°F

32°C / 90°F

LOW TEMP

26°C / 79°F

25°C / 77°F

25°C / 77°F

SUNRISE

05:58 AM

05:58 AM

05:58 AM

SUNSET

06:25 PM

06:24 PM

06:23 PM